Technical Training Courses London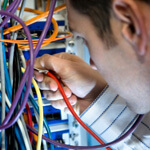 Microsoft, Oracle and Cisco training courses from London's leading provider
The time, energy and money invested in technical training provides significant career benefits for individuals and greatly improves productivity for companies.
Rapid changes in technology result in a continuous need for IT employees with the knowledge and skills to make new and evolving technologies work to the maximum effect for their organization.
We offer the UK's most comprehensive portfolio of Microsoft, Cisco and Oracle training events
We run 250+ courses
Here's a selection of some of our most popular:
Microsoft Technical

Cisco

Oracle
What will you get on your Technical training course?
Qualified trainers with years of practical delivery experience
Relaxed but focused training environment with hands on exercises
Networking opportunities with fellow attendees
Refreshments available all day
Online customer account with booking history, feedback, and promotions all complimented by a dedicated account manager for the lifetime of the account.
Where will the training take place?
We offer training in a range of venues around London in convenient locations. However if you'd prefer we can come to your offices and deliver training. Get a quote for on-site training. We also offer equipment hire.
Other technical courses
Administering Red Hat Linux 7 - Part 1
Administering Red Hat Linux 7 - Part 2
Administering Red Hat Linux 7 - Part 3
Developing Applications with Java EE
Fundamentals of Java Programming
Introduction to MySQL
Linux Advanced System Administration (LPI)
Linux Introduction
Linux Shell Programming
Linux System Administration (LPI)
MySQL Database Administration for Experienced Database Administrators
MySQL Database Administration
Oracle Database 11g Release 2 DBA - Part II
Oracle Database 11g Release 2 DBA - Part I
Oracle SQL Advanced
Perl Programming
Python Programming
Red Hat Linux 7 for Experienced Red Hat Linux 6 Administrators
Ruby Programming
UNIX Introduction
UNIX Shell Programming
UNIX System Administration

Oracle Fusion Middleware Courses
Concepts of Programming
Fundamentals of Java Programming
Java Programming
Java Web Development - Servlets & JSP
Developing Applications with Java EE
Oracle 11g WebLogic Administration
Oracle 12c WebLogic Administration

Oracle Development
Relational Databases & Data Modelling Overview
Introduction to SQL
Oracle SQL
Oracle PL/SQL
Oracle Fundamentals
Oracle SQL Advanced
Oracle SQL Fundamentals
Oracle Introduction for Experienced SQL Users
Oracle PL/SQL Stored Program Units
Oracle Program with PL/SQL
Oracle Advanced PL/SQL
Oracle Forms - Part I
Oracle Forms - Part II
Oracle Reports
Oracle Application Express 4
Oracle Application Express 5
Oracle Discoverer Plus for End Users
Oracle Discoverer Desktop for End Users
Oracle Discoverer for Administrators
Oracle Database 12c Courses
Relational Databases & Data Modelling Overview
Introduction to SQL
Oracle Database 12c New Features Seminar
Oracle 12c SQL Performance Tuning
Oracle 12c New Features for Administrators
Oracle Database 12c Administration
Oracle Database 12c Essential Administration
Oracle Database 12c Install & Upgrade
Oracle Database 12c Backup & Recovery with RMAN
Oracle Database 12c DBA Performance Tuning & Management
Oracle Database 12c Manage Multitenant Architecture
Oracle Database 12c Managing Oracle on Linux for DBAs
Oracle Database 12c Data Guard
Oracle Database 12c RAC and Grid Infrastructure Administration
Java & Web Development Courses
Concepts of Programming
Java Web Services
Java Web Development - Servlets & JSP
Unit Testing using Juhromenit (JUNIT)
Web Development Foundation - HTML & CSS
JavaScript Web Development
Web Development & JavaScript (WDJS)
jQuery Web Development (JQWD)
PHP Programming
PHP & MariaDB for Web Development
PHP Programming & MariaDB for Web Development
PHP & MySQL for Web Development
PHP Programming & MySQL for Web Development
Perl Programming (PERL)
Python Programming (PYP)
Introduction to Python Cryptography
Python Programming & Cryptography
Ruby Programming
Ruby on Rails
Ruby Programming & Ruby on Rails
JBoss Application Server Administration
Apache Tomcat Administration
Apache Web Server