Office 365 End User
Other versions available: 2013, 2010...
London and UK wide
Syllabus
Who is this course for?
The course is intended for information workers who have used Microsoft Office and have basic Windows navigation skills.
Benefits
This one-day instructor-led course provides delegates with the skills & knowledge to utilise Office 365 productively. At the end of the course, delegates will have:
Gained an understanding of how Office 365 can increase productivity

Accessed and work with Outlook Web Access (OWA)

Learnt how to contact a Co-Worker in Outlook using Skype for Business/Lync

Learnt how to work with new Exchange features available with Outlook

Used Skype for Business/Lync to collaborate with people inside & outside the company

Collaborated with others using SharePoint; Worked with a Team Site and view information within Outlook

Used SharePoint Web Apps to update a document.
Course Syllabus
Understanding Office 365
What is Office 365?
What makes up Office 365?
How is Office 365 integrated?
Accessing Office 365 Remotely
Access the Office 365 web screens.
Review the general information.
Working with Outlook Web Access (OWA)
Review the User Interface.
Learn how to send and reply to mail.
Learn how to turn on out of office.
Learn how work with calendar.
Using New Features in Outlook
View Mail Tips.
See when someone is out of the office when creating a message.
Ignore a message.
Find availability of rooms and people instantly.
Using Skype for Business/Lync to Collaborate with Others
Create a locate a contact.
Create customer contact groups.
Communicate with a contact through instant message, call and video.
Share a program, desktop screen, PowerPoint presentation or document with contacts.
Create a group meeting instantly and proactively.
Record your meetings and locate them.
Using SharePoint to locate and Share Information
Navigate a Team Site.
Working with documents and view within Outlook.
Working with calendar and view within Outlook.
Collaborate on Documents.
Modify the My Site profile.
Search within a SharePoint Site.
Using Web Apps with Documents
View a document in a web browser
Modify a document in a web browser
What you get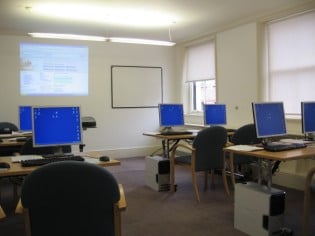 Training is held in our modern, comfortable, air-conditioned suites
Modern-spec IT, fully networked with internet access
"What do I get on the day?"

Lunch
Lunch is provided at a local restaurant or pub. Browse the sample menus:
Breaks and timing
Courses start at 9:30am.
Please aim to be with us for 9:15am.
Joining information (how to get to our venues)
Refreshments
Available throughout the day:
Hot beverages
Clean, filtered water
Biscuits
Learning tools

In-course handbook
Contains unit objectives, exercises and space to write notes
Reference material
Available online. 100+ pages with step-by-step instructions
24 months access to Microsoft trainers
Your questions answered by Microsoft qualified trainers online.
Training formats & Services
Testimonials
Sancroft
Hetty G,
Analyst
Highly valuable day, which will definitely improve office communications and also my ability to use different functions.
CLSH Management Ltd
Stacee Humphreys,
Admin
I think that the course covered the aspects set by the company. I was just a little bit more technical than the others, but I am sure that others found it useful.
Office 365 End User
Primesight
Jenny Douglass,
Operations Manager
I wanted to mention how engaging Richard was as a trainer, he kept the content relevant, interesting and engaging throughout the session - very impressed. Richard's knowledge of the topic area was also absolutely brilliant and his insight into 365 has definitely improved people's knowledge and understanding and will definitely benefit the company going forward.

Thank you!
Office 365 End User