Office 365 End User
Other versions available: 2013, 2010...
London and UK wide
NOTE: Face to face training temporarily paused due to COVID-19 pandemic. Virtual classroom training available, please contact us to arrange your training.
Syllabus
Who is this course for?
This course is aimed at end users of Office 365 who wish to obtain a good working knowledge of some key O365 applications.
Prerequisites
A working knowledge of Windows is required, or our Microsoft Windows Introduction course. A working knowledge of MS Office and Internet Explorer is required.
Benefits
This one-day instructor-led course provides delegates with the skills and knowledge of Office 365 and by the end of the course, delegates will have:
Knowledge of Office 365 and the benefits to agile working practices

The ability to use the correct O365 application for the business task

Learnt when, where and how to use OneDrive for Business

Knowledge of working with Web Apps and the benefits it this

Capability to collaborate with colleagues using communication tools such as Yammer, Teams and Skype for Business
Course Syllabus
Introduction
What is Office 365?
Cloud based computing
Overview of Desktop apps and Web apps
Overview of flexible working using mobile phone apps

Office 365 Portal
Accessing/Navigating the Office 365 portal
OneDrive for Business
File saving and sharing using OneDrive for Business
Sharing documents with colleagues
Organising documents
OneDrive for Business versus SharePoint/Teams for document management
Working with Office Desktop and Web Apps
Creating and editing files in Word, PowerPoint and Excel using the Office Web Apps
Using Outlook Web Access
Key features within Mail, Calendar, Tasks and People
New features in the current version of the applications
Working with Teams - Collaboration
Overview/create teams & channels
Joining teams
File saving, sharing and OneDrive
Using other 365 Apps within Teams
Working with Teams - Communication (formerly Skype for Business)
Creating chat messages and working with chat options
Finding and working with contacts
Creating contact groups
Working with instant messaging (IM)
Creating a Teams meeting using Outlook
Making calls through Teams (subject to local settings)
Creating and managing Teams meetings.
Sharing content
Recording meetings (subject to local settings)
Working with Yammer
Overview of Yammer
Creating and editing posts/comments
Following people, topics, files
Creating Yammer groups

Other 365 Apps
A high level overview of other applications available via Office 365 such as:
Using OneNote
Using Planner
Using Forms
Using Delve
What you get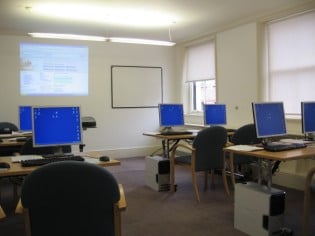 Training is held in our modern, comfortable, air-conditioned suites
Modern-spec IT, fully networked with internet access
"What do I get on the day?"

Lunch
Lunch is provided at a local restaurant or pub. Browse the sample menus:
Breaks and timing
Courses start at 9:30am.
Please aim to be with us for 9:15am.
Joining information (how to get to our venues)
Refreshments
Available throughout the day:
Hot beverages
Clean, filtered water
Biscuits
Learning tools

In-course handbook
Contains unit objectives, exercises and space to write notes
Reference material
Available online. 100+ pages with step-by-step instructions
24 months access to Microsoft trainers
Your questions answered by Microsoft qualified trainers online.
Training formats & Services
Testimonials
National Physical Laboratory
Claire Lambeth,
Quality Assurance
I personally require more detail as I still find all the different elements hard to separate from each other, SharePoint & Teams particularly seem to overlap, which confuses me.
ABM
Petya Kasabova,
Trainer
It's very useful, straight to the topic and the questions we asked. The best part was the practice because it makes the chances we understand and remember higher.
May be if desks in the room are organised differently the trainer would have had easier access to see what each attendee was doing individually.
Office 365 End User
Duracell
Darren Judd,
Trade Markerting
Very good, inspiring, thought provoking to help work improve effectiveness/efficiency
Office 365 End User