Industry leading price model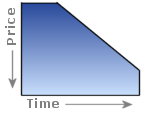 Generally, the further ahead
you book, the lower the price.
Applies to Microsoft Desktop & Management Skills training.
For public schedule courses and all other formats.
Like the airline industry, real-time discounted pricing, book ahead to save.

1000s of promotional prices instantly available online over a firm 12 months schedule.

Fast and easy booking system.
Features include:
Order history
Delegate feedback
Promotions
Payment options



Advice and support available from our engaging enquiries team and dedicated account managers a phone call or click away.