Management & Microsoft training courses London/UK
How to book
Online booking once account opened
Manage signups, newsletters, promotions etc.
View your booking and payment history
Access to your delegate feedback
Payment on invoice or by these cards types:

Public scheduled courses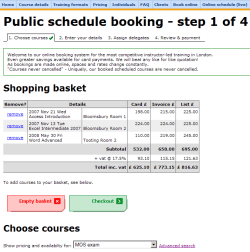 Select your course from the course details page (eg. Excel Introduction)

Read through the course syllabus to ensure it's the correct course for you (or your delegate). Call us if you're unsure.

Search for a date on the Pricing and availability page.

Courses are booked online.

Click the Book now button next to your chosen date.
Payment can be made by card (secure online payment system or over the phone, see card types above), or on company invoice.

We'll e-mail your invoice and joining information.
On-site training and Closed company courses
Contact our friendly enquiries team to discuss your training.
Receive quotation and training dates in 3 minutes.
You can then Sign in and turn your quote into an order.
To secure your dates:
Pay over the phone by card; or
Sign and fax your order acknowledgement
Other training formats
To save you time and paperwork, we aim to automate as much of our ordering processes as possible.
To book other training requirements (Floorwalking, Roll-out, Drop-in surgery) please contact our enquiries team who will be happy to assist you. Or, see further information on training formats for Microsoft training courses London and UK wide.