Excel Financial Modelling Training Course
Excel 2007, 2010, 2013
Face to face public schedule & onsite training. Restaurant lunch included at STL venues.
Virtual classroom training continues. Can't find what you are looking for? Get in touch.
2 days Instructor-led workshop
Specifically designed for finance professionals, this
Excel Training for Finance Specialist London
is the perfect course for those working with budgets on a regular basis.
Further to this syllabus, many delegates went on to take the
Effective Budgeting and Beyond
course.
Syllabus
Who is this course for?
Anyone looking to learn or extend their knowledge of using Excel to assist with financial decision making in a business context.
Benefits
This course will show you why Excel is an essential tool for financial modelling, guide you through some key models and also introduce the practice of rolling forecasting. There will also be the opportunity to explore tying up actual models with reporting.
You may also be interested in our
finance for non financial manager
or
VBA courses
.
Course Syllabus
Fundamentals of financial modelling
Applications for financial models
Vital differences between financial models and spreadsheets
Best practice in developing and building financial models
Getting the best results with Excel

Financial models and techniques for forecasting
Using Excel's data analysis toolkit
Avoiding common forecasting problems
Using moving averages to isolate trends in time series data
Using linear regression to isolate trends in time series data
Using exponential smoothing to forecast sales demand
Building a financial model to make sales forecast
Using Excel Solver to minimise forecast error
Using Excel correlation tools to identify links between variables
Building a financial model to forecast costs
Understanding the drivers of business cash flow
Building a financial model to forecast cash flow
Financial models for capital investment decision-making
Principles of capital budgeting
Common approaches to capital investment decision-making
Understanding the time value of money
Principles of discounted cash flow (DCF)
Understanding and using Excel DCF functions
Building a financial model for capital investment decision-making

Financial models for forecasting and improving business performance
The elements, structure and dynamics of financial statements
Understanding the shareholder value concept
Measuring profitability with Return on Net Assets (RONA)
Managing the key drivers of RONA
Understanding and managing business risk
Building a financial model to forecast financial statements
Using rolling forecasts in adaptive management processes
Building a financial model to make rolling forecasts

Financial models for business valuation
The need for and approaches to business valuation
Understanding the shareholder value added (SVA) method
Building a financial model for business valuation

What you get
"What do I get on the day?"
Face-to-face training

Training is held in our modern, comfortable, air-conditioned suites.
Lunch
Lunch is provided at a local restaurant or pub. Browse the sample menus:
Breaks and timing
Courses start at 9:30am.
Please aim to be with us for 9:15am.
Joining information (how to get to our venues)
Refreshments
Available throughout the day:
Hot beverages
Clean, filtered water
Biscuits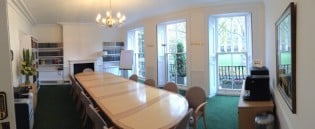 Virtual training

Regular breaks throughout the day.
Learning tools

In-course handbook
Contains unit objectives, exercises and space to write notes
24 months access to trainers
Your questions answered by qualified trainers online.
Training formats & Services
Testimonials
Incommunities
Barrie Topham,
Senior Finance Officer
A lot was covered in the two days and at times it was a bit stressful trying to keep up with topics that I had never covered before. I enjoyed the course and Paul's delivery and knowledge. Hopefully I will be able to use the course to improve consistency and efficiency within my work role.
Excel Financial Modelling
Incommunities
Greg R,
Ace Resources
Paul has been great, we have different skill levels and use excel in different ways but he has been able to account for these variations in his pack and stimulating presentation.
Excel Financial Modelling
NBCUniversal
Hanna Alem,
Financial Analyst
Very good training a
Excel Financial Modelling