Selling Skills Program
Face to face public schedule & onsite training now available. Restaurant lunch included at STL venues. Our training delivery is relevant for office, remote and hybrid workers.
Virtual classroom training continues. Can't find what you are looking for? Get in touch.
2 days Instructor-led workshop
This program is designed and delivered in the context of a client's business. Delegates are expected to 'bring' customers and prospects to the workshop and through practical exercises try out new ideas and skills in the context of a customer opportunity. When they return to the office the expectation is that they will be more likely to win.
Syllabus
Who is this course for?
Sales teams within SME's to Enterprise sized organisations. Sales directors and C-level decision makers looking for an effective sales program that delivers results.
Course Syllabus
Practice
The skills discussed, demonstrated and practiced across this two day workshop will equip delegates to operate better in making first contact, first meetings, positioning the company's value and their own value, and discovering specific opportunities.
Rapport
Making connections with customers and prospects through effective and flexible communication styles to unlock the real customer agenda.
Listening and Asking Questions
We have two ears and one mouth, our ability to use them in this ratio will empower us to more quickly discover opportunities and then . . .
Position Our Value
This is the method to ensure we are best fit for the customer's needs on a rational and emotional level – that we are the 'best-fit solution'
Evidencing Our Value
The benefits of what we are proposing maybe clear, how do we provide the evidence to the customer that the benefits promised would actually occur? We work through a four-step process to lock our value in.
Handling Pushback
What we might hear in the meeting as an objection is often a cry for help, "help me understand better" 'I am not sure how this exactly solves my problem".
Consultative Selling Tools
1. The Client Profiler tool confirms you have the right information to go deep into a client.
2. The Meeting Planner ensures you go in a meeting or telephone call properly prepared with the right questions and key messages to hand.
3. Story-Builder is a device to guarantee your solution is focused on the customer's pain or ambition and demonstrates how you are going to HELP!
What you get
"What do I get on the day?"
Face-to-face training

Training is held in our modern, comfortable, air-conditioned suites.
Lunch
Lunch is provided at a local restaurant or pub. Browse the sample menus:
Breaks and timing
Courses start at 9:30am.
Please aim to be with us for 9:15am.
Joining information (how to get to our venues)
Refreshments
Available throughout the day:
Hot beverages
Clean, filtered water
Biscuits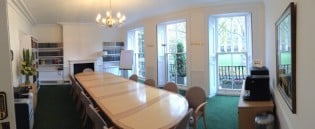 Virtual training

Regular breaks throughout the day.
Learning tools

In-course handbook
Contains unit objectives, exercises and space to write notes
24 months access to trainers
Your questions answered by qualified trainers online.
Training formats & Services