Effective Budgeting & Beyond Training Course
Financial Training London and UK wide
2 days Instructor-led workshop
"With careful and detailed planning, one can win; with careless and less detailed planning, one cannot win. How much more certain is defeat if one does not plan at all!" So said Sun Tzu in "The Art of War" written in 400BC and his advice is as relevant today as it was then.

Success in any organisation depends on being able to develop and implement effective plans to achieve the organisation's objectives. Although some see budgeting as a burden, the most successful organisations use the budget process to produce powerful plans to keep them on track to deliver their goals and vision.

This course will provide you with an up to date guide to effective budgeting.
Syllabus
Who is this course for?
Any manager responsible for delivering organisational objectives and targets; managers in charge of developing frameworks for improving public or private sector performance; all managers responsible for preparing and controlling departmental budgets.

Benefits
Learn how to tie strategy to effective annual budgets

Get practical tips to improve budgeting in your organisation

Identify critical success factors for your organisation

Understand how winning organisations harness the power of Balanced Scorecard

Develop Key Performance Indicators that will help you to deliver results
Course Syllabus
Budgeting's place in the planning framework
Creating and articulating the organisation's vision and objectives
Organisational stakeholders and balancing their objectives
The planning horizon
A framework for strategic planning
Tools for strategic analysis
Understanding and managing risk
Budgeting essentials
Linking budgets to strategic objectives
Identifying tactical objectives
Identifying constraints and the limiting budget factor
Assigning responsibility for budget objectives
Making sure objectives are integrated
People and budgets; using budgets to motivate
Practical budgeting
The budget manual
The sales budget
Overhead budgets
Capital expenditure budgeting
Cash budgeting
Preparing the master budget
Business seasonality, trends and budget phasing
Budget implementation
Monitoring financial and other data
Design of budget reports
Four golden rules for good feedback reporting
Alternatives to traditional budgeting
Zero-based budgeting
Activity based budgeting
Criticisms of conventional budgeting
Beyond budgeting
Handelsbanken case study
Using rolling forecasts instead of static budgets
Identifying key business drivers
Business modelling with Excel
Implementing rolling forecasts

Balanced Scorecard and KPI's
The four perspectives of the Balance Scorecard
The 'three step' approach to developing Balanced Scorecard
Identifying critical success factors
Using Balanced Scorecard to develop Key Performance Indicators
Aligning the KPI's with long term strategy
Practical implementation of a Balanced Scorecard
Real life examples of successful implementation
What you get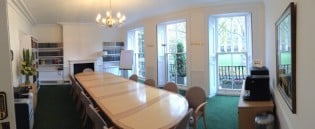 Training is held in our modern, comfortable, air-conditioned suites
"What do I get on the day?"

Lunch
Lunch is provided at a local restaurant or pub. Browse the sample menus:
Breaks and timing
Courses start at 9:30am.
Please aim to be with us for 9:15am.
Joining information (how to get to our venues)
Refreshments
Available throughout the day:
Hot beverages
Clean, filtered water
Biscuits
Learning tools

In-course handbook
Contains unit objectives, exercises and space to write notes
24 months access to trainers
Your questions answered by qualified trainers online.
Training formats & Services
Testimonials
Civic Construction Ltd
Kevin Edge,
Director
The course was great. I found it was particularly relevant to what I am looking for in my business right now, my expectations were exceeded.
Wittington Investments (properties) Ltd
Caroline Gibson,
Financial Controller
The course leader had excellent knowledge but perhaps the content got a bit technical on 2nd day doing time series etc. Is useful to know and I enjoyed learning it but am not sure how often it would be used in practice.
In general I feel that STL provides a good and high level of training.
Effective Budgeting & Beyond