Introduction to Finance for Non-Financial Managers Workshop
London and UK wide
Face to face public schedule & onsite training. Restaurant lunch included at STL venues.
Virtual classroom training continues. Can't find what you are looking for? Get in touch.
2 days Instructor-led workshop
Syllabus
Who is this course for?
This course is suitable for managers and others in finance related roles:
• with some or no financial knowledge
• who need to understand the financial implications of every day decision making
• who need to increase profitability and performance of their business

You may also be interested in financial management for non finance managers course.
Benefits
At the end of this 2 day course delegates will have gained the skills necessary to be able to manage budgets more effectively, use and understand financial concepts, interpret financial results using ratios, and understand financial accounts and reports. Further explore and put into practice with workshops and case studies

Course Syllabus
Business Cycle
Understanding the cash flow in a business
Profit and loss balance sheet
Cash flow statement
Understanding the balance sheet

Business objectives
Using financial information to set targets 
Accountancy rules
How to stop abuses
Distinction between profit and cash flow
Key financial ratios
Management
Cost control
Managing cash flow
Working capital management
Improving financial performance
Break even analysis
Investment
Capital Investment techniques
Workshop Sessions
Retail sales case study
Sales compared to budget/target
Sales vs period, sales per sqft
Key product revenue/location
Overheads, staff costs etc
Supplier costs

KPI's
Sales per hour, average
Conversion rates
Wage to sales ratio

Workshop Sessions
Generic Banking case study
Retail banking model
Examples

Group exercise
- Each individual to share a finance related
challenge from their jobs.
- As a group nominate one as an example
- Each group example will be discussed and
one will be selected for a workshop session
- Each group will present their proposed
solutions to the real life challenge
- The trainer will review and discuss merits
of each solution
What you get
"What do I get on the day?"
Face-to-face training

Training is held in our modern, comfortable, air-conditioned suites.
Lunch
Lunch is provided at a local restaurant or pub. Browse the sample menus:
Breaks and timing
Courses start at 9:30am.
Please aim to be with us for 9:15am.
Joining information (how to get to our venues)
Refreshments
Available throughout the day:
Hot beverages
Clean, filtered water
Biscuits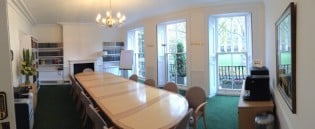 Virtual training

Regular breaks throughout the day.
Learning tools

In-course handbook
Contains unit objectives, exercises and space to write notes
24 months access to trainers
Your questions answered by qualified trainers online.
Training formats & Services
Related courses: Finance for nonfinancial London.