Maximising Sales on the Phone
NOTE: Face to face training temporarily paused due to COVID-19 pandemic. Virtual classroom training available, please contact us to arrange your training.
1 day Instructor-led workshop
29- years old in 1876, Mr Bell could hardly have imagined the power his invention would wield in the 21st century. From old fashioned call-centres to the isolated Rep stuck on hands-free in gridlock, the ability to build sales and strengthen far-reaching networks has become as much a skill of innovation as the original inventor's first, detailed drawings.
As with any invention, User guides will be continually updated, and so must we, with knowledge of function and new ways of interacting. This once humble device can, in virtual-reality, be the life-support for companies globally. The millennial age has changed the way we connect and do business. Cold calls and Sales Leads now have a battery life. The question is how to survive and thrive. This course has the potential to realise your potential.

Syllabus
Objectives
To maximise productivity and networks

Understanding the dynamics of winning business

Using communication styles to build relationships

Why certain types of people will not buy straight away and how to recognise and deal with them

Prerequisites
A desire to succeed in cold calling, sales prospecting, account management, client services or customer support operations, and with a natural personality for being just a little bold and adventurous.
Benefits
The undeniable sense of confidence that comes from securing your first appointment or sealing the next deal.

Knowing that the interaction is in fact a collaboration, you work from another's point of view, being able to engage with enthusiasm.

Developing a sincere interest in lead investigation and a belief in your product, and that you are the very best service on offer.

Showing through open discussion and practical examples, how to develop the right attitude, to comprehend the numbers game and to investigate the mechanics of sales.

Course Syllabus
It's Your Call
Professional skills in Communication
Beyond the Gatekeepers
From Objection to Opportunity
Mind your Business
The Numbers Game
The Prospector
Cold Calling
The Sales Cycle
The Science of Persuasion
Carnegie Rules!
The Mechanics
The Fear Factor
Writing Your Script
Your Top 5 Wishlist
Why It Goes Wrong?
Great Sales People in History
Role Modelling
What you get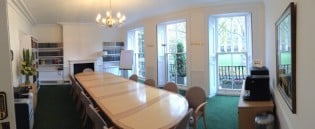 Training is held in our modern, comfortable, air-conditioned suites
"What do I get on the day?"

Lunch
Lunch is provided at a local restaurant or pub. Browse the sample menus:
Breaks and timing
Courses start at 9:30am.
Please aim to be with us for 9:15am.
Joining information (how to get to our venues)
Refreshments
Available throughout the day:
Hot beverages
Clean, filtered water
Biscuits
Learning tools

In-course handbook
Contains unit objectives, exercises and space to write notes
24 months access to trainers
Your questions answered by qualified trainers online.
Training formats & Services