Communication Skills for High Pressure Teams
Face to face public schedule & onsite training. Restaurant lunch included at STL venues.
Virtual classroom training continues. Can't find what you are looking for? Get in touch.
2 days Instructor-led workshop
Syllabus
Who is this course for?
This two-day communications workshop is suitable for front-line teams dealing regularly with difficult groups of stakeholders. This course would benefit HR, customer service or sales departments and any group of people who deal with customer issues daily.
Benefits
This workshop combines fundamentals of emotional intelligence and behavioural styles analysis with practical communication strategies to equip teams with the tools and techniques needed to deal with difficult stakeholders, unrealistic expectations and conflict. Although the focus is on managing external relationships, the workshop also facilitates communication within the team to encourage support and shared values, and to enable the team to deal with communication issues together.
Course Syllabus
Day 1
Introduction
Hierarchy of values - identifying personal and team values
Discussion of current problems/barriers/issues with communication
Understanding your personal communication style
Aggressive/passive characteristics
What is assertiveness?
Triggers and responses
Going deeper - understanding emotional intelligence
Feelings, perceptions and beliefs
Understanding your reactions under stress and conflict
Understanding transactional analysis
Building resilience
ABCDE technique for choosing your emotions
Communication styles and understanding others
Communication styles model
Identifying preferred styles
Recognising others' communication styles
Looking for and recognising communication cues
Empathy
Day 2
Review Day 1
What did you notice about yourself and your emotional reactions?
What did you notice about others?
Adapting communication style as required
Ensuring your message is perceived as intended
Phrasing your message appropriately
Influence and persuasion
Assertive techniques
Giving and receiving feedback
Expectation setting/contracting
Effective conversation techniques: questioning and listening
Conflict management
Recognising your hot buttons
Dealing with difficult situations
Dealing with negative or aggressive behaviour
Summary
Reflect on and align team values going forward
What you get
"What do I get on the day?"
Face-to-face training

Training is held in our modern, comfortable, air-conditioned suites.
Lunch
Lunch is provided at a local restaurant or pub. Browse the sample menus:
Breaks and timing
Courses start at 9:30am.
Please aim to be with us for 9:15am.
Joining information (how to get to our venues)
Refreshments
Available throughout the day:
Hot beverages
Clean, filtered water
Biscuits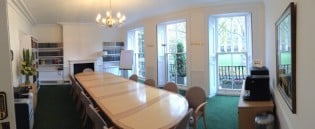 Virtual training

Regular breaks throughout the day.
Learning tools

In-course handbook
Contains unit objectives, exercises and space to write notes
24 months access to trainers
Your questions answered by qualified trainers online.
Training formats & Services