Access VBA Basics Training Course
Microsoft Access Intro Intermediate (all versions)
Syllabus
Who is this course for?
Advanced users of Microsoft Access responsible for managing very large and variable amounts of data, or teams, who want to learn how to program features and functions to improve the accessibility and usability of their data.
Benefits
At the end of the course the delegate will have covered the fundamentals of VBA, including working with procedures and functions, understanding objects, using expressions, variables and intrinsic functions.

They will have mastered how to control program execution, working with forms and controls, working with the PivotTable object.

Finally the course also includes modules on debugging code, handling errors to ensure minimal downtime while building and effecting the program.
Course Syllabus
Getting Started
Introduction to access programming
Understanding the development environment
Using VB help
Developing with Procedures and Functions
Understanding and creating modules
Defining procedures
Creating a sub-procedure
Calling procedures
Utilising the immediate window to call procedures
Making and naming a function procedure
Working using the code editor
Understanding Objects
Understanding classes and objects
Navigating the Access object hierarchy
Understanding collections
Using the object browser
Working with the application object
Understanding the form object
Working with properties
Using the with statement
Working with methods
Understanding the DoCmd object
Working with events
Understanding the order of events
Utilising Intrinsic Functions, Variables and Expressions
Defining expressions and statements
How to declare variables
Determining data types
Programming with variable scope
Harnessing intrinsic functions
Defining constants and using intrinsic constants
Adding message boxes and using input boxes
How to declare and use object variables
Controlling Program Execution
Understanding control-of-flow structures
Working with boolean expressions
Using the if...end if decision structures
Using the select case...end select structure
Using the for...next structure
Using the for each...next structure
Using the do...loop structure
Guidelines for use of branching structures
Working with Recordsets
Declaring and creating object variables
Working with the ADODB recordset object
Specifying a recordset cursor type
Locking records for updating
Specifying a recordset cursor location - optional
Using the cache size property - optional
Understanding recordset cursor properties - optional
Debugging the Code
Defining errors
Working with debugging tools
Determining breakpoints
How to step through code
Working with break mode during run mode
Identifying the value of expressions
Handling Errors
Understanding error handling
Understanding VBA's error trapping options
Trapping errors with the on error statement
Understanding the error object
Writing an error handling routine
Working with inline error handling
What you get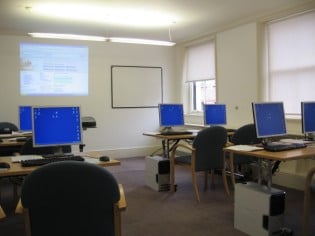 Training is held in our modern, comfortable, air-conditioned suites
Modern-spec IT, fully networked with internet access
"What do I get on the day?"

Lunch
Lunch is provided at a local restaurant or pub. Browse the sample menus:
Breaks and timing
Courses start at 9:30am.
Please aim to be with us for 9:15am.
Joining information (how to get to our venues)
Refreshments
Available throughout the day:
Hot beverages
Clean, filtered water
Biscuits
Learning tools

In-course handbook
Contains unit objectives, exercises and space to write notes
Reference material
Available online. 100+ pages with step-by-step instructions
24 months access to Microsoft trainers
Your questions answered by Microsoft qualified trainers online.
Training formats & Services
Testimonials
Markel International
Christopher Nicholls,
Analyst/Developer
Very good course just pitched at the right level for my requirements
Meridian ISE
Andrew S
Very good. Trainer able to give very useful help on real world issues.
Access VBA
NHS
Hollie Harmer,
Clinical Technologist
The course structure was great. Having the tutor typing at the same time and having it displayed on the projector made it easier to spot mistakes you may have made. I think a few more individual exercises would be beneficial to test the knowledge that you have learnt. This can include basic level and then bonus questions as some delegates maybe quicker at learning than others so they are not just hanging around for all to finish. Plus this can push you to learning extra and getting the best out of the course.
Access VBA
Learn all about Procedures, Functions, and Objects in our VBA Basics Training Courses for MS Access. Three levels are available: Introduction, Intermediate and Advanced.

This basics course teaches control program execution, forms and working with the PivotTable object - a popular unit among most of our course attendees.