Microsoft Access Training Courses London - Database Development
Access Consultancy Services UK wide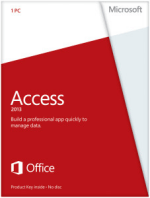 Whatever your Access requirements, we are confident that our extensive range of Microsoft Access consultancy services, covering all Access versions and products, can be tailored to exactly what you are looking for.
Our consultants are all Microsoft qualified trainers so we can either:
Complete the database development work for you ourselves, or
Train you and your staff how to create and maintain your database yourselves
Whether you select one of our consultancy / training centres or would prefer our on-site services, we now deliver the UK's most regular schedule of instructor-led MS Access training courses:
Services
Database design or re-design and development to improve robustness, efficiency and usability.
Tailored application design and development using Visual Basic (VBA) in Excel and/or Access, or related technologies.
Extraction and extrapolation of data from other business systems.
On-site training to provide hands-on training for your staff and support your development efforts.
System migration, enabling you to take advantage of the latest Office technologies (from any version).
Continuing advice and training services in a format and location of your choice.
We have over 30 consultants who regularly run MS Access training courses and deliver consultancy services UK wide. These consultant / trainers are Microsoft qualified and are highly experienced.
We will match your specific needs with an individual that has the relevant industry knowledge, skills and experience.
We can also provide cover for long term contracts or projects where holiday or other absence cover may be required. We will never let you down due to a lack of resource.
Contact us
Please call us to discuss your requirements. We never cancel courses, yet give you the flexibility to reschedule online within seconds if for whatever reason your circumstances change. Access courses are available in a variety of levels, ensure that you choose the correct one for your development needs.