Access Advanced Training Course
Training available London & UK wide
Syllabus
Who is this course for?
Our advanced Microsoft Access training course is suitable for those with a sound working knowledge of Access who wish to progress to the most complicated functions and features.
Benefits
At the end of this course you will have a complete understanding of the higher functions of Access. You will learn to automate functions by creating simple and then very advanced macros. You will advance your querying ability and then to use SQL statements in your queries. You will discover how to work with objects, and the fundamentals of database management. Finally you will be taught how to protect your valuable data sources.

You will then be qualified to progress to the VBA course for Access.
Course Syllabus
What's new in Access
PivotTables and PivotCharts
Create a PivotTable
Modify a PivotTable
Working with a PivotChart
Creating Advanced Forms
Designing a form based on joined tables
Automating data entry
Grouped control
How to improve the user interface
Designing subforms
Macros
Create and run macros
Attach macros to events of database objects
Creating Advanced Macros
Create macros to provide user interaction
Create macros requiring user decision
Use AutoKeys and AutoExec macros
Exploring Access SQL
How to identify different clauses in an SQL statement
Writing SQL statements
Attach an SQL statement to database objects
Integrating the Internet
Work with hyperlink fields
Managing Databases
Work with database utilities to optimise resources
Secure data by database replication
Security Fundamentals
Protect databases
What you get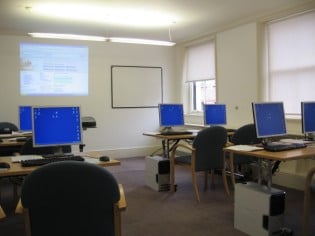 Training is held in our modern, comfortable, air-conditioned suites
Modern-spec IT, fully networked with internet access
"What do I get on the day?"

Lunch
Lunch is provided at a local restaurant or pub. Browse the sample menus:
Breaks and timing
Courses start at 9:30am.
Please aim to be with us for 9:15am.
Joining information (how to get to our venues)
Refreshments
Available throughout the day:
Hot beverages
Clean, filtered water
Biscuits
Learning tools

In-course handbook
Contains unit objectives, exercises and space to write notes
Reference material
Available online. 100+ pages with step-by-step instructions
24 months access to Microsoft trainers
Your questions answered by Microsoft qualified trainers online.
Training formats & Services
Testimonials
Global Markets Consultants
Jack Williams,
Business Manager
- An entire worksheet dedicated to exercises that didn't immediately tell us step-by-step how to do them was a good idea - it required us to apply our knowledge more unaided - I recommend for all future courses.

- Course was extremely satisfactory

- I recommend that STL provide exercise practice sheets that students can take away with them
Medical Research Council
Jonathan Last,
Data Manager
This is the 2nd course I've been on in the last 2 months and they have both been very useful and enjoyable.
Access Advanced
Kansanshi Mining Company
Eleanor Shaw,
Geologist
Can't wait to try out building my very own database!
Access Advanced
After completing the Advanced Access Course, why not consider Access VBA training? It's a 2-day course that runs on our public schedule but can also be delivered onsite at your office or by closed company at our venues.