Dealing with Imposter Syndrome
Face to face public schedule & onsite training. Restaurant lunch included at STL venues.
Virtual classroom training continues. Can't find what you are looking for? Get in touch.
1 day Instructor-led workshop
Do you feel proud of your accomplishments in life? When you are given a raise or a promotion do you feel you deserve it? Or is it a moment of dread that one day you'll be found out to not be the expert you've said you are, the singer who is really only second grade, or that everything that has brought you to where you are is a mistake?
If you are experiencing feelings of inadequacy and self-doubt, you'll be surprised that Imposter Syndrome is typically associated with high achievers. Some 70% of people experience this at some time in their lives. As we become more specialised in a particular subject, we become more aware we become of the gaps in our knowledge which can bring on feelings of being "not quite good enough.".
The course examines the Imposter Syndrome, where it stems from and offers tips and techniques and strategies to overcome it. Through these you will be able to confirm and acknowledge your capabilities.

Syllabus
Who is this course for?
Anyone who feels like they are a fraud and does not believe in their own achievements, or who criticises his/her rights to manifesting good things for themselves and others. It will also help managers who are dealing with this syndrome in any of their staff.
Objectives
This course is designed to explore the Imposter Syndrome, to recognise its presentations and debilitations for the psyche and in day to day life and offers thinking techniques for you to handle it constructively.
Course Syllabus
Imposter Syndrome; what's that?
What is Imposter Syndrome?
Why do you think you are a fraud?
How is it linked to other feelings of self-doubt, fear of success and self-sabotage?
When does this pattern strike?
How do you recognise it?
Recognising Imposter Syndrome
Recognising it in yourself
What thoughts does it comprise of?
Not living up to others' "expectations"
Focussing on your mistakes and not your achievements
Being a Perfectionist
Thinking you are unremarkable
Never doing enough; Where do your skills come from?
Recognising the syndrome in your team
An employee consistently turns down praise and promotions
Avoiding high exposure projects
Attributing their work to luck or some other factor
Symptoms of low self-esteem, self-deprecation
Unfavourable Comparisons with others
Expressing fears of failure or incompetence
Overcoming Impostor Syndrome
How to acknowledge your feelings
Keeping a journal
Cognitive Restructuring
Talking to others (gaining reassurance)
Understanding your strengths and weaknesses
Building confidence and doing a SWOT analysis
Overcoming Perfectionism
Believe in Your Successes
Key Constructs
Breaking the pattern
Stop the Self-blame
Are you an Expert, a Superman/woman, a Soloist or a Natural Genius?
Avoiding personal and group stereotypes
Why am I having these beliefs?
Challenging the Syndrome: activities
21 ways to Overcome Imposter Syndrome
Taking Action
What you get
"What do I get on the day?"
Face-to-face training

Training is held in our modern, comfortable, air-conditioned suites.
Lunch
Lunch is provided at a local restaurant or pub. Browse the sample menus:
Breaks and timing
Courses start at 9:30am.
Please aim to be with us for 9:15am.
Joining information (how to get to our venues)
Refreshments
Available throughout the day:
Hot beverages
Clean, filtered water
Biscuits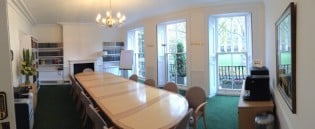 Virtual training

Regular breaks throughout the day.
Learning tools

In-course handbook
Contains unit objectives, exercises and space to write notes
24 months access to trainers
Your questions answered by qualified trainers online.
Training formats & Services
Training manual sample
Below are some extracts from our Dealing with Imposter Syndrome manual.
21 ways to Overcome Imposter Syndrome.
These include
· acceptance
· providing value
· receiving compliments
· testimonials
· self-exposition
· experimentation
· acknowledgement
· you can be wrong and it's ok
· Feeling that you belong
· Stop feeling that you'll be punished or will die