Improving Memory with Mind Mapping
1 day Instructor-led workshop
The information age has placed huge demands on our powers of recall and analytical skills. Having a proven method for efficiently storing information for easier recall and analysis is imperative. By understanding the fundamentals of memory and by using mind mapping techniques a powerful visual memory can be developed.
Syllabus
Who is this course for?
Anyone looking to improve their memory and increase their capacity to learn.

You may also wish to consider our problem solving training courses.
Benefits
Enjoy learning and retaining more information

Develop your own strategies

Grow your creativity

Improve your confidence

Appreciate different learning styles
Course Syllabus
How we recall
Immediate, working and long-term memory
Making associations
Making information unique
The learning cycle
Capturing new information
Utilising new information
Mind mapping
Establish high level ideas
Connecting ideas
Holistic thinking
Effective planning
Dealing with writers blocks
Strategies for better memory
Memory maps
Sense awareness
Reinforcement with personal experience
Using different styles of learning
Establishing performance benchmarks, tracking progress
Theory of Multiple Intelligences
Verbal-linguistic intelligence
Logical-mathematical intelligence
Spatial-visual intelligence
Bodily-kinaesthetic intelligence
Musical intelligences
Naturalist intelligence
Existential intelligence
What you get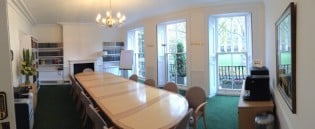 Training is held in our modern, comfortable, air-conditioned suites
"What do I get on the day?"

Lunch
Lunch is provided at a local restaurant or pub. Browse the sample menus:
Breaks and timing
Courses start at 9:30am.
Please aim to be with us for 9:15am.
Joining information (how to get to our venues)
Refreshments
Available throughout the day:
Hot beverages
Clean, filtered water
Biscuits
Learning tools

In-course handbook
Contains unit objectives, exercises and space to write notes
24 months access to trainers
Your questions answered by qualified trainers online.
Training formats & Services