Dealing with Difficult People
Face to face public schedule & onsite training now available. Restaurant lunch included at STL venues.
Virtual classroom training continues. Can't find what you are looking for? Get in touch.
1 day Instructor-led workshop
Syllabus
Who is this course for?
Difficult people are not deliberately difficult. They are fulfilling a need in themselves, conscious or otherwise. Behind every stubborn viewpoint, criticism, or complaint is a want for something to be balanced. Handling difficult people is accepting that this person has a differing viewpoint to you, for very good reasons of their own. It is important to put this person's wants and needs into words which provide both you and them with an understanding of why things seem difficult. To then show that you are with them on the journey as long as they consider your proposals as well. This course prepares the delegate for that objective and covers anyone from Directorship level to the Shop Floor.
Benefits
Following this workshop participants will be able to:
Understand other people's behaviour patterns

Raise levels of self-awareness

Prevent problems escalating by becoming more aware

Negotiate solutions rather than partition blame

Boost courage to deal with difficult situations responsibly

Course Syllabus
You and Your Identity
Who are you? Why is the other person difficult?
Describing yourself - How do others see you?
Presenting external behaviours
Are you visually, analytically or emotionally orientated?
Recognising other people's behaviour patterns: why they operate as they do
Changing Mindsets
Letting them make the decisions
Matching needs
Giving and receiving feedback the right way
Motivating others to change
Listen to your intuition, not your old patterns
Techniques for Change
What happens when you act carelessly, carefully or caringly?
Ken Pierce's Five Fabulous factors
Engendering respect between you
Uncovering hidden drives: The Gestalt of Seeing what you and the other person are unconsciously doing
Handling conflictual premises
The Requisites for Planning anew: What will you do?
Asking yourself why in a positive way, without criticism, judgment
Being big enough to handle what you learn
Using body language and self-control appropriately
Are you prepared to hear the truth?
How do you help others realise what their motivations are? (The values driving their behaviour)
Remaining detached whilst being empathic
Becoming more assertive
Helping you both to come to solutions
What you get
"What do I get on the day?"
Face-to-face training

Training is held in our modern, comfortable, air-conditioned suites.
Lunch
Lunch is provided at a local restaurant or pub. Browse the sample menus:
Breaks and timing
Courses start at 9:30am.
Please aim to be with us for 9:15am.
Joining information (how to get to our venues)
Refreshments
Available throughout the day:
Hot beverages
Clean, filtered water
Biscuits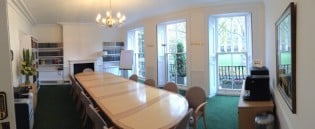 Virtual training

Regular breaks throughout the day.
Learning tools

In-course handbook
Contains unit objectives, exercises and space to write notes
24 months access to trainers
Your questions answered by qualified trainers online.
Training formats & Services