Managing Upwards
London and UK wide
Face to face / Virtual public schedule & onsite training. Restaurant lunch included at STL venues.
1 day Instructor-led workshop
Syllabus
Who is this course for?
This practical course is for people who would like to work more effectively with their own manager as well as build constructive working relationships with more senior colleagues such as Executive teams and Board members.

This course is a part of our range of organisational training London courses.
Benefits
Using a blend of assertiveness techniques and management strategies this course focuses on setting boundaries, managing priorities and establishing clear channels of communication. At the end of the course delegates will be empowered to take a more active part in their relationships with senior management.


Course Syllabus
Where do I stand?
What works and what needs to change?
Management styles
Roles and responsibilities
Working together
Understanding each other's priorities
Clarifying expectations
Giving and receiving feedback
Tools and techniques
Clarify, challenge and direct
Goal and objective setting
Managing conflicting priorities
Delivering bad news and tough messages
Upward delegation
Taking things forward
Building networks
Personal assessment
Action planning
What you get
"What do I get on the day?"
Arguably, the most experienced and highest motivated trainers.
Face-to-face training

Training is held in our modern, comfortable, air-conditioned suites.
Lunch, breaks and timing
A hot lunch is provided at local restaurants near our venues:
Courses start at 9:30am.
Please aim to be with us for 9:15am.
Browse the sample menus and view joining information (how to get to our venues).
Refreshments
Available throughout the day:
Hot beverages
Clean, filtered water
Biscuits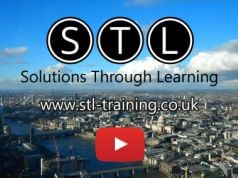 Virtual training

Regular breaks throughout the day.
Learning tools

In-course handbook
Contains unit objectives, exercises and space to write notes
24 months access to trainers
Your questions answered on our support forum.
Training formats & Services
On a public schedule at one of our
London training venues.
On-site at your company office UK wide
Near-site, at a location close to you
Tailored courses to your requirements
Productivity Training Programs
Consultancy
Bespoke one-to-one
Rollout
TNA
Testimonials
Northwestern University In Qatar
Sian Sadler,
Senior Manager Of Dean's Operations
Absolutely. From Darryl at the initial stage of my enquiry and Tony to the course content.

I will absolutely be recommending STL to my colleagues.
The Health Foundation
Leila Evans,
PA & Comms Assistant
I thought this course was really engaging and interactive which I think works well for my learning. Tony made was personable and made it fun and enjoyable. I'm really looking forward to applying the new tools to my day to day work.
Managing Upwards
UWC International
Siobhan Adeusi,
Executive Officer
I was very satisfied with the content and received lots of ideas to improve working relationships.
Managing Upwards
You might be looking for 2days short management courses in london bridge for the month of january. We can help with all of your personal development needs all year around, just pick up the phone and give us a call or book now via the links provided above.

These are the first steps to becoming a more competent management professional. The ROI will pay dividends fivefold.
Learning & Development Resources
Infographics
Training manual sample
Below are some extracts from our Managing Upwards manual.
Managing Upwards
Where do I stand?
Identifying Hotspots
To change, we need to know where to start. We need to decide what works and what needs to change.
Use the table below to list up to five situations or "hotspots" that could be improved in your working relationship with Management. During the training, we will return to this page and complete the remaining columns.
Feedback
More of/Less of/Keep the Same
The experience of giving and receiving feedback can be challenging. A simple model that reduces the risk of defensiveness and opens the opportunity for discussion and agreement is to ask for or to provide what we would like:
1) More of
2) Less of
3) To Keep the Same
Contracting
Getting agreement up front about how we will work together makes the work much easier to carry out, and makes feedback particularly effective.
Try phrases that begin "Would it be OK…" or "If it's OK with you…" or "Can we…" followed by "Is that OK?" This enables you to form a simple contract that sets out how you will work together. Agreements can be in writing, but a simple verbal expression of what is required followed by "is that OK?" will also work.
For example:
"If it's okay with you I'd like to use 'More of / Less of / Keep the same' when asking for or providing feedback. You can do the same in return."
Are there areas with your manager that would benefit from a contract that makes it clear how you will work together? Use the table below to list potential areas for agreement and potential wording for your contracting phrase or request:
Roles and Responsibilities
All parties in the Management relationship share responsibility for making it work. It can feel difficult or daunting to take an active role in building the relationship where hierarchical authority seems to dictate that "they" should make things better because "they" are the boss.
One approach to levelling out the power in a relationship with Management is to reflect on all the sources of Power that we bring to the table.
In Self-Leadership and the One Minute Manager, Ken Blanchard, Susan Fowler and Laurence Hawkins propose the following simple model to describe a more rounded view of the Power we can employ when working with our manager.
Working Together
To work together, it is essential to understand each other's priorities. In establishing what is important in your working relationship with your manager, you may want to explore some of the following areas:
What is your organisation's purpose?
What is the mission and vision of your organisation?
Does it make sense to you?
Is it clear how it impacts on your part of the organisation?
Could you apply or adapt this for your team, your manager, you?
How are you both measured?
What measures are used?
Who does the measuring?
Who sees and evaluates the results?
How frequently does this happen?
How else can you discover their priorities?
Ask them directly?
Listen to the language they use, look for themes
Notice for hotspots or triggering situations
Watch out for both positives and negatives
Delivering Bad News

It can be very difficult to deliver bad news or tough messages. But considering the other person's preferred style of interacting makes tackling this delivery much simpler.
Relaters
Have you got a minute?
Would appreciate a chat about something...
Socialisers
Time for a brainstorm Team!
Let's get together and come up with a solution to this problem
Directors
Here is some bad news.
I have included a summary of effects and highlighted three possible solutions
Thinkers
We have an intriguing challenge that we have not been able to solve yet
There is no one way to deal with delivering bad news, but below are some ideas to think about when approaching a difficult situation:
Surprises
Must there be "no surprises"?
Should we alert them ASAP or take time to assess first?
Problems
Would they like solutions or the opportunity to solve the problem?
Decision Making
How much leeway do we have to decide for ourselves and take action without checking with our manager?
Mistakes
Is there a culture of blaming people or are errors seen as opportunities? If a mistake is discovered how would they like it addressed?