Developing Personal Impact & Building Productive Relationships
1 day Instructor-led workshop
This workshop is designed for professionals from all walks of life who are intent on self-developing their interpersonal skills that turn employees into followers and clients into fans. Whether you have ambitions for Leadership, or a deep-seated interest to discover the power of influence, this course is for those who want to improve effective delegation, empower collaboration, or just to heighten your awareness of the impact we can have on others.
Syllabus
Objectives
to understand the philosophies of highly effective people

to understand Professional skills and develop practical methods

to understand the power of cause and effect.
Prerequisites
Ideally should have an ambitious (and/or) out-going nature that this workshop can build from. Must present two investigations of Leaders (past or present) who inspire you, and be able to explain why.
Benefits
This workshop will provide an in-depth analysis of the attributes that define leadership, and what inspires others to be followers. You will discover the theory behind 'how to win friends and influence people' and the philosophies to develop client loyalty and achieving success from team goals by setting your own standards. You will also gain an insight into the principles of effective relationships, how to manage the productivity in others, and how to manage and understand the states of emotional intelligence.
Together with the
facilitator course
, this course constitutes a part of a wider range of our
leadership and management courses
.
Course Syllabus
The Theory of Professional Skills
Understanding professional skills and the mindset of others
The six principles 'How to win friends and influence people'
Johari's Windows – an exploration of the known and the unknown
John Wooden - habits of highly effective people and the pyramid of success
Assertiveness – a practical evolution
Building Profitable Relationships
Self-confidence and the centre of knowledge
Maintaining Relationships
'Over-boarding' its personal
The Rules of Likeability
Practical Application
The (two) Leadership analysis reviews
Building your pyramid of success
Managing Difficult Attitudes
The four degrees of Personality
Self-awareness and Emotional Dynamics
What you get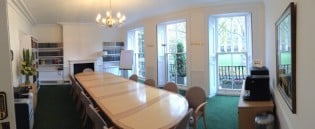 Training is held in our modern, comfortable, air-conditioned suites
"What do I get on the day?"

Lunch
Lunch is provided at a local restaurant or pub. Browse the sample menus:
Breaks and timing
Courses start at 9:30am.
Please aim to be with us for 9:15am.
Joining information (how to get to our venues)
Refreshments
Available throughout the day:
Hot beverages
Clean, filtered water
Biscuits
Learning tools

In-course handbook
Contains unit objectives, exercises and space to write notes
24 months access to trainers
Your questions answered by qualified trainers online.
Training formats & Services