Managers and Stress in the Workplace
Face to face / Virtual closed & onsite training. Restaurant lunch included at STL venues.
1 day Instructor-led workshop
The 1-day course will help managers and directors ensure they use downtime productively, to make changes in their working behaviour and offer them coping strategies for maintaining optimum health.
The 2-day course will include the exploration of initiatives for those managers who want to design and introduce a strategy for keeping their staff in good health across the board.

Syllabus
Who is this course for?
Often it is those at the top of their game and leaders of companies who, whilst advocating stress management comprehension and classes for their staff, often neglect to look after themselves. This course is for Company Directors, Managers, Team Leaders and such like, whose role is to manage the office or factory-floor environment.
Objectives
Work-related stress has a negative effect on workers and managers. It costs UK businesses millions of pounds annually in lost time and productivity. Delegates will:



identify their main stressors,


develop and implement effective approaches to both preventing and managing anxiety at work


and enable them to properly assess the business case for creating a stress-free working environment.


Benefits
During this course you will:


Define stress and dispel common misunderstandings


Identify the main causes of stress in your working environment


Consider the various responses to stress


Consider the impact stress can have on an individual's ability to perform optimally


Develop a range of stress reduction techniques


Discuss the business case for cultivating a stress-free working environment


Course Syllabus
What is stress?
Definition
Common misunderstandings about stress
Other reactions triggering stress
Causes and impact of stress in the work environment
Stress triggers and stressors
How does stress affect your productivity?
Body, behaviours thinking, feelings
The stress cycle
Stress, the brain and our emotions
How the brain deals with stress - The Amygdala
Responding to 'fight or flight'
The connection between our emotions and thoughts
Stress reduction techniques
Change your relationship with anxiety
Workstyle and lifestyle changes
Healthy eating and hydration
Relaxation and sleep
Managing your energy
Diversifying your activities
10 top tips for reducing stress
The business case for reducing stress in the workplace
The financial impact stress can have on an organisation
Challenging and changing unhelpful thoughts
Developing a management stress reduction action plan
Creating a worker-friendly environment / improving work-life balance
Improving performance and productivity
Appreciating HSE Management Standards which provide a safe working environment for employers
How managers can recognise stress in staff and implement a programme of stress management for all.
What you get
"What do I get on the day?"
Arguably, the most experienced and highest motivated trainers.
Face-to-face training

Training is held in our modern, comfortable, air-conditioned suites.
Lunch, breaks and timing
A hot lunch is provided at local restaurants near our venues:
Courses start at 9:30am.
Please aim to be with us for 9:15am.
Browse the sample menus and view joining information (how to get to our venues).
Refreshments
Available throughout the day:
Hot beverages
Clean, filtered water
Biscuits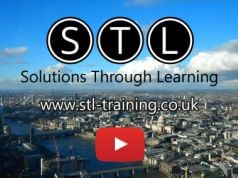 Virtual training

Regular breaks throughout the day.
Learning tools

In-course handbook
Contains unit objectives, exercises and space to write notes
24 months access to trainers
Your questions answered on our support forum.
Training formats & Services
Training formats available
On-site at your company office UK wide
Closed group at one of our London training venues
Near-site at a location close to you
Bespoke one-to-one basis
Tailored training courses to your requirements
Executive coaching & mentoring