Management Leadership
1 day Instructor-led workshop
The words "leader" and "manager" tend to go hand in hand, but what do the terms really mean? This course is designed to help you understand the difference and to work at both leading and managing your organisation and its staff.
Syllabus
Who is this course for?
For Team Leaders, Managers, and Directors of Companies
Benefits
This course will help you become aware of the role of management, its expectations, demands and responsibilities.

It will also give you the tools to carry out the functions of management, controlling, planning and organising and how to lead different personalities in different roles.

The role of both leader and manager is to inspire and to execute strategies and this course looks at many of these aspects.

NB: This is a very interactive course. Delegates are expected to role play and join in discussion and activities.

Course Syllabus
Requirements of the Managerial Role:
Communication Lines
Motivating personnel
Guiding and supporting members of your team
Increasing productivity
Creating and Leading Initiatives
Aligning staff with your goals
Being responsible for your actions and those of your staff
Performance appraisals, firing and promoting staff
Exercising the right authority
Defining Leadership
Why people will follow
Personalities and behaviours of leaders
Becoming charismatic
Your belief system
Passion speaks loudest
Becoming flexible
The importance of Having a Vision
Challenging the status quo
How to always inspire
Management traits and the type of Manager you are:
Managing change
Being creative
Future trends
Being aware of the people in your team
Applying Your Skills
Having a vision and making it happen
Giving direction, delegating, using the right people for the right job
Establishing processes and procedures,
Reviewing and refining
Involving Others: getting them to own the initiatives.
Developing your Leadership Skills
From where you stand now, where do you want to go?
Defining the Present and the Future: Group Outcome Boards
Does everyone see/hear/feel the same outcome?
Think differently for new solutions
Why you need to be dynamic/Challenging
Transparency, honesty and integrity
If you've made mistakes, own up to them.
Blending the Roles
Being innovative AND looking after the bottom line
An eye on the current trends AND ensuring a smooth operation which continues to support
Inspiring trust in your team AND understanding their skillsets.
Creating value, Analysing the State of Play AND ensuring new ideas are well managed and maintained.
Your areas of Influence AND your degree of power must unite
Leading AND managing people
What you get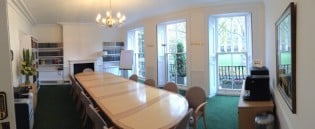 Training is held in our modern, comfortable, air-conditioned suites
"What do I get on the day?"

Lunch
Lunch is provided at a local restaurant or pub. Browse the sample menus:
Breaks and timing
Courses start at 9:30am.
Please aim to be with us for 9:15am.
Joining information (how to get to our venues)
Refreshments
Available throughout the day:
Hot beverages
Clean, filtered water
Biscuits
Learning tools

In-course handbook
Contains unit objectives, exercises and space to write notes
24 months access to trainers
Your questions answered by qualified trainers online.
Training formats & Services