What's the difference between Word 2013 and Word 2010?
Word version differences
Note: Word 2002 is also known as Word XP.
Jump to:
What's the difference between Word 2013 and Word 2010?

Version 2013 has a more streamlined look with improved connectivity and Cloud features.
Microsoft has increased the user's ability to share work with colleagues over a range of devices, and expanded the range of finishing touches to give Word documents a professional edge.
1. Improved screen reading experience
New read mode
2013 makes it easier to read columns with the automatic text reflow.

Object zoom
With the click of the mouse, the user can see more detail in tables, charts, images and videos. The detail will then return to the original size with another mouse click.
Resume reading
2013 includes automatic bookmarks - remembering where you were at when you last visited the document.
2. Easier collaboration
2013's new features aim to make it easier to share work with colleagues including:

Reply comment feature which makes it easier to track discussions.
Simplified sharing
Via default saving of new documents to SkyDrive or SharePoint ensuring that everyone has the latest version. With easy control of permissions for viewing and editing.
Ability to share and present documents even if other users don't have Word, allowing them to read through the document on your screen, in their browser.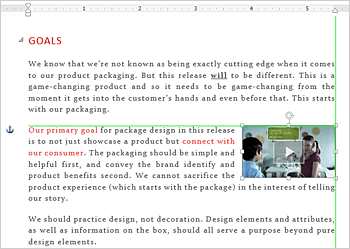 3. Improved Professional Finish to Word documents
Such as the easier inclusion and use of charts, photos and diagrams
4. Easy to use alignment guide.
These appear as and when you need them and disappear when you've finished.
5. Improved handling of PDF content.
With 2013, the user can open a PDF in Word, and it act like Word content making it easier to edit.
6. Live layout
The text reflows automatically when you move a photo, video or shape to a new position.
Upgrading to Word 2013?
Have you considered a short Word 2013 training course to help you get the most out of the new version?
There are many different styles of training available, such as a public schedule course, onsite at your home or office, one-to-one training, closed company group training and many more styles.
All of these options can be bespoke/tailored to suit your needs, except for public schedule which follows a set syllabus (see example: Excel Introduction 2013). If you're interested in an MS Office 2013 training course, you may like to visit our Office 2013 courses page.
What's the difference between Word 2010 and Word 2007?
Live word count
Paste preview
Open unsaved documents in Recent
Improved photo-editing tools
Artistic effect Remove Background
Improved Navigation Pane with Drag & Drop
Protected view
Improved Spellcheck
New art effects in WordArt
What's the difference between Word 2007 and Word 2003?
Spend more time writing, less time formatting

The new Ribbon, a component of the Office Fluent user interface, groups your tools by task, and the commands you use most frequently are close at hand.

The new, results-oriented Office Fluent user interface presents tools to you, in a clear and organized fashion, when you need them:

Save time. Get more out of the powerful Word capabilities by selecting from galleries of predefined styles, table formats, list formats, graphical effects, and more.
The Fluent user interface eliminates the guesswork when you apply formatting to your document. The galleries of formatting choices give you a live visual preview of the formatting in your document before you commit to making a change.

Add preformatted elements with just a few clicks

Office Word 2007 introduces building blocks for adding preformatted content to your documents:

When you are working on a document from a particular template type, such as a report, you can select from a gallery of preformatted cover pages, pull quotes, and headers and footers to make your document look more polished.
If you want to customize the preformatted content, or if your organization often uses the same piece of content, such as legal disclaimer text or customer contact information, you can create your own building blocks that you select from the gallery with a single click.

Communicate more effectively with high-impact graphics

New charting and diagramming features include three-dimensional shapes, transparency, drop shadows, and other effects.
Instantly apply a new look and feel to your documents

When your company updates its look, you can instantly follow suit in your documents. By using Quick Styles and Document Themes, you can quickly change the appearance of text, tables, and graphics throughout your document to match your preferred style or colour scheme.

Easily avoid spelling errors

When you are writing a document for others to see, you certainly don't want spelling errors to detract from your message or to undermine your professionalism. New features of the spelling checker make it easier for you to distribute your work with confidence.

Share documents confidently

When you send a draft of a document to your colleagues for their input, Office Word 2007 helps you efficiently collect and manage their revisions and comments. When you are ready to publish the document, Office Word 2007 helps you ensure that any unresolved revisions and comments aren't still lurking in the published document.
Add a digital signature or signature line to your documents

You can help provide assurance as to the authenticity, integrity, and origin of your document by adding a digital signature to the document. In Office Word 2007, either you can add an invisible digital signature to a document, or you can insert a Microsoft Office Signature Line to capture a visible representation of a signature along with a digital signature.
Convert your Word documents to PDF or XPS

Office Word 2007 supports exporting your file to the following formats:
Portable Document Format (PDF)
XML Paper Specification (XPS)
How to save the files in PDF or XPS format in Word 2007
.
Instantly detect documents that contain embedded macros

Office Word 2007 uses a separate file format (.docm) for macro-enabled documents, so you can instantly tell whether a file is capable of running any embedded macros.
Prevent changes to a final version of a document

Before you share a final version of a document with other people, you can use the Mark as Final command to make the document read-only and communicate to other people that you are sharing a final version of the document.
Recover from computer problems

The 2007 Microsoft Office system provides improved tools for recovering your work in the event of a problem in Office Word 2007.

What's the difference between Word 2003 and Word 2002/XP?
Reading layout

The "View" menu has a new option to allow you to read documents easily on the screen, without the editing tools getting in the way.

Comparing documents

In the "Window" menu, you can choose to compare two documents alongside each other, to help identify any changes (perhaps between an older and newer version of your document.
Create & manage styles

Go to the "Formats" menu, and then "Styles & Formats" to manage all your styles. This allows you to quickly apply a commonly used text format to parts of your document. Then if you want to make a change to that style, the rest of the document is automatically updated.

Whilst this feature already existed in previous versions of word, the management of styles in Word 2003 is vastly improved.
Improved support for combining diacritical marks

Although combined diacritics/accents are handled quite poorly in MS Word, version 2003 has improved support for fonts containing combined characters.
XML Documents (.xml)

Word 2003 is the last version to use binary formats (.doc) as its default format. The next major version will use XML type .docx as default. However, Word 2003 does introduce the new XML format if required.
What's the difference between Word 2002/XP and Word 2000?
Still researching.
What's the difference between Word 2000 and Word 97?
Still researching.
Sources
http://www.microsoft.com/en-gb/officepreview/word-2013-preview
http://office.microsoft.com/en-us/word-help/what-s-new-in-microsoft-office-word-2007-HA010074224.aspx
http://en.wikipedia.org/wiki/Microsoft_Word
Training links
Other applications

Box shots