Sage Training UK
Sage Line 50 Intermediate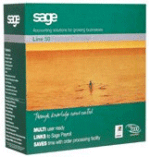 Our Sage trainers all have extensive product knowledge as well as proven teaching skills and experience. Their role is to enable you to get the very best results from your Sage software.
Who is this training course suitable for?
Sage users with a basic knowledge of the line 50 application.
Prerequisites
A working knowledge of sage line 50 or our Sage line 50 Introduction course.
Benefits
This Sage training course is designed primarily for those with little knowledge of Sage who would like to understand more about the day-to-day inputting of their accounts on computer. At the end of this training course participants will understand beyond the basics of day-to-day bookkeeping and use Sage Line 50 for prepayments, accruals, depreciation and global changes.
After completing this Sage training course you will be prepared to attend the Sage Line 50 Advanced training.
Course Syllabus
Recurring entries
Editing entries
Prepayments and accruals
Depreciation methods
Entering fixed assets
Writing off an asset
Entering & processing purchase orders
Product Pricing Options
Product records
BOMs & product transfers
Entering & processing sales orders
Credit control basics
Late Payment legislation
Writing off bad debts
Sage Task Manager
Our expert trainers teach Sage for all versions of Sage Line 50 and Sage Payroll. We have high-spec training centres in London and also provide on-site and near-site training wherever you are in the UK.
Sage One to One training is available at your site by arrangement, please call for further information on Sage training in UK.
What is Sage?
Sage is a business management software for small and medium sized enterprises. The purpose of Sage is to help customers run their businesses more effectively, helping them to gain greater insight into their business activities and providing them with lasting benefits by automating their business processes.
Training formats available