Sage Payroll Training UK Wide
Sage Payroll Intermediate Training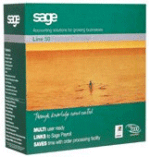 Looking for Sage Accounts or Sage Payroll training? We provide Sage training on all popular versions. We offer Introduction, Intermediate & Advanced courses. Tailored courses are available On site or at our London centre.
Sage Payroll training is available in closed company, On site, tailored or One to One courses.
Our Sage trainers all have extensive product knowledge as well as proven teaching skills and experience. Their role is to enable you to get the very best results from your software.
Who is this training course suitable for?
Sage users with a basic knowledge of the Sage Payroll application.
Prerequisites
A working knowledge of sage line 50 or our Sage Payroll Introduction course.
Benefits
This Sage training course is designed primarily for those with little knowledge of Sage who would like to understand more on Sage Payroll. This training course provides participants with the knowledge required to use further features of the Sage Payroll package. Users will learn how to process Statutory sick pay, Statutory maternity pay, tax credits, company cars, pension schemes, to apply the appropriate rates and to process weekly/monthly salaries.
Course Syllabus
Program and Payroll Basics
Tree View and Criteria
Global Changes
Departments and Employee Analysis
Pension Schemes
Holiday Schemes
Advancing Pay
Paying Holiday Funds
Statutory Sick Pay
Recording Absences
Statutory Maternity Pay
Company Cars
Student Loans
Tax Credits
Setting Passwords & Access Rights
Contacts Options & Weblinks
Linking the Payroll to Accounts
Our expert trainers teach Sage for all versions of Sage Line 50 and Sage Payroll. We have high-spec training centres in London and also provide on-site and near-site training wherever you are in the UK.
Sage Payroll One to One training is available at your site by arrangement, please call to discuss.
What is Sage?
Sage is a business management software for small and medium sized enterprises. The purpose of Sage is to help customers run their businesses more effectively, helping them to gain greater insight into their business activities and providing them with lasting benefits by automating their business processes.
Training formats available