Sage Consultant London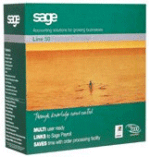 Sage Consultancy and Accountancy Training Services
Whatever your Sage requirements, we are confident that our comprehensive range of Sage consultancy services and Sage accountancy training services, covering all Sage products and versions, will provide the solution.
Whether you choose to attend one of our training / consultancy centres or would prefer our services on-site, we provide probably the UK's most regular schedule of instructor-led Sage training courses.
Services
IT Systems Creation and Development - We will take the time at the outset of the project to review your existing systems and discuss both short and long term objectives to be sure that the system to be implemented is right for your business.
Installation & configuration - We will install the software and configure it to your business needs, whilst ensuring that integration with existing systems is maintained and all business risks minimised.
IT Training - Our flexible approach to training takes into account your business needs, with the alternative of on or off site training being available.
Management Information Systems Creation - We aim to make the software an asset of your business as well as a management tool, rather than just a record keeping system.
We can offer installation and on site support for all popular Sage products.
The consultant
We have both the IT skills and a wealth of Sage Accounting Systems knowledge to ensure that your systems development is planned, co-ordinated and consequently successful.
The experience
We will match your specific needs with an individual that has the relevant industry knowledge.
The resource
We are also able to provide cover for longer contracts of projects where holiday or other absence cover may be required. We will not let you down due to a lack of resource.
The consulting company
We want you to tell others that we know what we're doing, and that we do it in a business-like manner.
Contact us
Please
call us
to discuss your requirements on Sage Consulting and Accountancy Training Services.