Powerpoint Mac 2008 Introduction Training Course
Training Course London and UK wide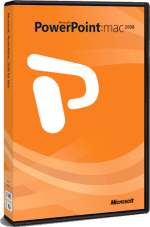 1 day instructor-led.
Training formats available
Who is this training course suitable for?
Our Microsoft Powerpoint Mac Office 2008 Introduction course is suitable for complete beginners to Microsoft Powerpoint.
Prerequisites
A working knowledge of computers is required and the Mac OS.
No experience of MS PowerPoint is required.
Benefits
At the end of this course you will have a good working knowledge of PowerPoint basics. You will feel more confident using PowerPoint and be able to create a presentation from scratch. You will learn how to improve the format of your text as well as getting to grips with importing and manipulating graphics, using the Powerpoint drawing tools and the chart and table design tools to make your presentation much more visually stimulating. You will also learn how to make modifications to your presentation before you learn how PowerPoint is used in a live presentation.
After completing this course you will be prepared to attend the PowerPoint Intermediate/Advanced Mac Office 2008 course.
Course Syllabus
PowerPoint Basics
Exploring the PowerPoint environment
Help options
Closing presentations and closing PowerPoint

Building New Presentations
Creating new presentations
Saving presentations
Working in the outline tab
Rearranging and deleting slides
Using slides from other presentations

Formatting and Proofing
Exploring text formatting
Moving and copying text
Setting tabs and alignment

Using the spelling checker
Examining AutoCorrect and the style checker
Using Drawing Tools
Drawing objects
Using AutoShapes

Working with text in objects
Enhancing objects
Working with WordArt and Clip Art
Working with WordArt
Adding clip art

Using Tables and Charts
Working with tables
Creating and enhancing charts
Creating organization charts

Enhancing Presentations
Using templates
Working with the slide master
Working with multiple slide masters
Adding transitions and timings
Adding speaker notes and footers

Delivering Presentations
Running presentations
Printing presentations
Exporting to other formats
Saving presentations for web delivery
"What do I get on the day?"
Microsoft qualified trainers with industry relevant experience
Modern air conditioned training suite, flat screen PC's, 1 per delegate
Lunch provided in a comfortable and relaxed setting
Comprehensive course material and files to take away
What is Microsoft PowerPoint?
Microsoft PowerPoint is a popular presentation program developed for Microsoft Windows and Mac OS. Being widely used by businesspeople, educators, and trainers, it is among the most prevalent forms of persuasion technology: according to Microsoft, some 30 million presentations are made with PowerPoint every day.