Onsite PowerPoint Courses
PowerPoint Consultancy Services London and UK wide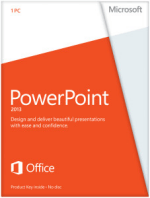 Whatever your PowerPoint requirements, we are confident that our comprehensive range of Microsoft PowerPoint consultancy services, covering all PowerPoint products and versions, will provide the solution.
Many of our consultants are also Microsoft qualified trainers so we can either:
Build the presentation ourselves in consultation with you
Train you or your staff how to do it yourselves
Whether you choose to attend one of our training / consultancy centres or would prefer our services on-site, we provide probably the UK's most regular schedule of instructor-led MS PowerPoint training courses.
Powerpoint Advanced
The aim of your PowerPoint slides should be to complement your speaking and enable you to deliver your subject material to maximum effect. To help you get the most out of your Powerpoint presentation you should consider either Powerpoint advanced training or consultancy. You can then utilise what you have learnt in your Powerpiont advanced training to make use of the advanced features which are offered within the Powerpiont software package.
PowerPoint Advanced Techniques
Through Powerpoint advanced training and consultancy you could learn many new advanced Powerpoint techniques, including:
Using animated charts
Skipping slides
Creating presentation that run by themselves
All of the above Powerpoint advanced skills will enable you to create presentations that are much more specific and eye catching to your audience. You can use the skip slides feature so you can create one presentation and tailor it so that you can present it to two groups with different levels of knowledge about the subject. Creating an automated presentation means that you can concentrate 100 percent on delivering a good verbal presentation without worrying about moving the slides forward.
Many of our customers find that onsite powerpoint courses deliver more satisfactory results because the learning happens in their offices, workplace or home. A more tailored course can be delivered, and with bespoke options, trainers can get to the root of any problems you may be having with your PowerPoint documents.
Contact us
Please
call us
to discuss your requirements.