Information home » Access information » MS Access Course In London & UK
MS Access Course In London & UK
28 Access events next 12 months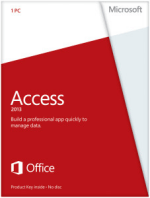 What is MS Access
MS Access first arrived in 1992 in the form of Access 1.0, since then it has developed considerably into the latest versions known as 2003 and 2007 which are present in most home and business environments. Microsoft Access is a relational Database management system (RDBMS), meaning that Access stores data in a group of many related tables. The data stored in the tables can be accessed and manipulated by forms and queries and then presented in customisable reports. For the more advanced user MS Access can be extended and developed upon using the built in Visual Basic for Applications module.
Learn with a MS Access Course
As mentioned above MS Access is a relational Database management system, and with it comes a few database rules that should be understood and kept to for the successful implementation of your Database system. To help you out with getting to grips with database terminology and principals we offer a range of instructor led MS Access courses. We run our scheduled courses at our 5 London training centres or alternatively at your offices anywhere across the UK. Our range of MS Access courses include:
- Introduction
- Intermediate
- Advanced
- VBA
We are able to train you on all versions of Access with our
MS Access Course
, versions include 2010, 2007, 2003, 2002/XP, 2000 and 97.
MS-Access-Course Benefits
The benefits of taking an instructor led MS-Access-course are:
- You will have a Microsoft certified trainer taking you step by step through the Access database program
- You will gain a solid understanding of Access and database concepts
- You will be confident in using, creating and modifying Access databases
- You will understand and be able to use queries, forms and reports
- You will gain an understanding of data entry rules
- The trainer will take you through Access SQL and database security
There are many more benefits of taking an MS-Access-course, but to for a better understanding of the knowledge you will take away from the course you should explore the different levels of Access training we offer, from our
Access overview
page you will be able to browse the course syllabus for each level and version of Access.
Access Support Forum
Using our Support forum you can post questions on any Microsoft Office application to our team of Microsoft certified trainers. Our support forum is particularly useful after you have taken a
MS Access Course in London
and have had a few days to digest the course content, as all the questions you have are fresh in your mind. Our trainers will respond to your questions within 24 hours with our typical response time being within 4 hours.
MS+Access+Course/ Pricing and online ordering
We have a quick and simple online booking system, so when you find a course and date that suits you, you can book it there and then either by credit/debit card or by invoice payment. You can book in confidence as we never cancel our courses.
We have an online "Easy-Jet" style pricing system - the further ahead you book your
MS Access course
, the lower the cost! Just visit our
pricing and availability page
to check our live schedule for a
MS+Access+course/
and to make your booking.
Secure your place on one of our industry leading
MS Access Course In London
today. Browse the
UK's largest schedule of training dates
to find the right course for you.
If you have any questions, our knowledgeable team are on hand to answer any questions you may have relating to your training.
Contact us now
.