Information home » Access information » Microsoft Access Course London
Microsoft Access Course London
20 Access events next 12 months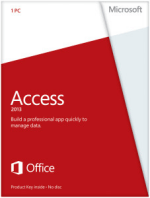 Microsoft Access Course London
Microsoft Access is a Database Management System (DBMS). For those new to databases, a database is essentially a group of tables containing data, which could be related to data held within other tables. There are a number of database systems to choose from including: Microsoft Access, Microsoft SQL, Oracle, Filemaker, IBM DB2 and MySQL.
Microsoft Access is part of the MS Office software package and will be found within most businesses. It is thought that the
Microsoft Access
package is the most used DBMS in businesses and at home.
Benefits
The benefits of using Microsoft Access as your DBMS are:
- You can find information quickly and easily using queries
- Use wizards to create forms and reports
- Create many reports with different views of your information
- Share the database with your colleagues so you do not duplicate data entry
- Perfect for individuals, small businesses or departments within large corporations
Access-Database-Training
It can be helpful to have assistance from someone with a high level of experience when first learning how to use a DBMS. Our Microsoft
database Access
training courses are designed to help you get to grips with the features that Access has to offer.
All of our
Microsoft Access Course London/b] are delivered by Microsoft Certified trainers. This means that at every stage of the learning process you have an instructor on hand to iron out any problems that you face in your access database course. Once your access database Microsoft training has finished, our Microsoft Certified trainers our still available via our forum to answer any problems you encounter whilst using MS Access.


Access Database Course

Our Microsoft Access database courses are available for all versions of the Microsoft Access database package including 2002, 2003 and 2007. Each course is one day in duration and we offer numerous levels of training which include - Introduction, Intermediate, Advanced and the same levels for Microsoft Access Visual Basic (VBA).


Types of Database Access Training

All of our Access database training courses are availble in the following course formats:

- Public scheduled training courses
- Closed company courses
- On-site training events
- One-to-One tailored training


It's also good to know that we are the market leader in the delivery of Access database instructor-led courses. We offer the most regular Access database Microsoft training courses in London and the UK. This means that you will attend a course of the highest standard.


Additional information for database access

For more information on our training database Microsoft Access courses and Microsoft database training, please see our Access overview page.

Alternatively, if you have a question regarding your Access+database+training, please ask one of our Microsoft Certified trainers via our support forum

Manipulate your data in ways you thought were never possible. Using wizards to create reports will help you find information quickly. Our Microsoft Access Course London and UK wide can provide substantial ROI for your business today.