MS Access Training Course London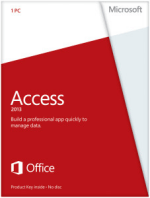 Access training courses - London and UK wide
8 Access events next 12 months
Our Access training courses are delivered by Microsoft Qualified trainers for all versions of MS Access. Each course is one day in duration and we offer four levels of training - Introduction, Intermediate, Advanced and Visual Basic (VBA).
Public scheduled microsoft access.training courses are held at one of our four London training centres. You can expect small class sizes in a modern, comfortable air conditioned training suite. We also offer training services for closed company, on-site, one-to-one, near site and consultancy. Tailored MS Access training London courses can be adapted from our course syllabus to meet your individual needs and requirements.
We are a Microsoft authorised testing centre and run one of the UK's most regular MS Access scheduled courses. We offer Microsoft Office Specialist (MOS) certification training and examinations.
Quality and Pricing
Our live on-line schedule. We have a highly competitive pricing policy of beating any like for like written training quotation. Our Microsoft access training courses are never cancelled.
Quality management system
We believe in continuous innovation and improvement in all aspects of our business model. This leads to reduced costs, increased efficiency and ultimately delivering more competitive course pricing. We evaluate all delegate feedback daily and ensure the careful preparation of all elements relating to access.training. The feedback is available for review by the management, trainers, delegates and members of the marketing team. This ensures a high standard of course delivery.

Training formats & services
Microsoft access training london events running soon...
Training Vouchers
Trainer vouchers are now available. Buying in bulk ensures a reduction in purchasing costs and administration time. These are often favoured by high volume or corporate clients. Courses in microsoft access can be booked using these training vouchers.
For pricing and availability information about public scheduled microsoft.access.courses, please check online or call us.
Why MS Access Training London?
Excerpt from Microsoft Access: Unleash the True Potential Today:
These days you can expect professional Access training, delivered by Microsoft Qualified trainers in Microsoft authorised centres. Many of the larger training companies now offering up to three Microsoft access+training public schedules courses a week at introduction, intermediate, advanced and VBA (programming) level according to the users experience and understanding. So Access 'newbies' can benefit from the introduction training level, learning important concepts such as how to use tables, fields and records in relation to simple queries, forms and views. The more advanced users will develop skills in SQL queries and how they relate to relational databases.
Access course Microsoft training - all levels, all versions.
More about Access database training
Not only do we offer public schedule access database courses, we can also arrange access-database-training on-site, a bespoke/tailored access course, a one-to-one access database course, a closed company access training class, drop-in surgery database access or floor-walking style access database microsoft training.
If you require an Access courses in London, you can take advantage of our four training centres in London which all cater for access courses, all taught by Microsoft Qualified trainers.
For more information regarding training database microsoft access or access class microsoft training, please visit our Access overview page.
---
What is Microsoft Access?
Microsoft Access is a desktop database application, packaged with Microsoft Office Professional. Unlike Excel, Access is able to work with millions of records, allowing large databases to be created, updated, searched and reported on by multiple users. From simple data capture to complex automation and user interfaces, Access brings all the powerful functionality of a complete database, without the need for expensive servers and administration.
MS Access articles
Excerpt from Innovation with Microsoft Access :
Access is a relational database program that allows the user to connect lots of pieces of information without a complicated mess. Just about every manager, inventory specialist, or customer relations specialist has a need to quickly access different types of data relating to one employee, product, or customer respectively.

Through Access training, those in these positions learn how to have complete control over their data in a powerful database format. Trying to organize and connect large amounts of data with Word or Excel is like attempting to cram 3 dimensions of information onto a 2 dimensional plane. Access training offers the key to understanding, building, and using relational databases.
Excerpt from Take an Access Course to Learn About Relational Databases:
If it were easy to explain relational databases, we wouldn't need a microsoft access courses to understand it. However a very simple explanation is that in a relational database each piece of information such as customer name, customer address, invoice number, and part number is a separate piece of information. Each piece is linked to others using relationships. For example a customer name is linked to a specific invoice number which contains part numbers.

We've generally learned to store data in a linear fashion, meaning one item after another in sequence. Customer records stored in a file cabinet alphabetically by last name is a linear storage method. The problem with linear storage is that if you want all customers who live in London or all customers who ordered a blue widget in March or April 2005, someone must go through every record to find the ones that match the criteria.
Excerpt from How Reorganising Your Data Can Take Your Business to the Next Level:
As you'll learn in access+training, a relational database allows you to view the relationships between different types of data to come to new conclusions. In today's business world where information reins king, it is often the way in which businesses interact with their data that determines which companies will jump ahead and which will just get by. The best thing about microsoft.access.courses is that most companies already have microsoft access ready and waiting to be used on every computer in the office.
Customer testimonials for Access training courses
"Found the microsoft access courses excellent and top value!"
- Ronnie M, easyJet [Access Introduction]
"Overall the access training was very well structured and informative. Each individual area covered was well presented and explained. Any extra questions were answered well by the trainer."
- Christopher T, ABN AMRO Bank NV [Access Introduction]
"Very imformative and well presented. Trainer was very knowledgable and easy to understand."
- Nerine W, Siemens Shared Services [Access Advanced]
"Trainer made courses in microsoft access very relevant to our current situations / jobs."
- Mark L, British Transport Police [Access Intermediate]
"Useful course. Have picked up lots of useful ideas which I can use in my work."
- Harjinder B, Westminster City Council [Access Advanced]
Some hints and tips for Microsoft Access
Taken from our Access hints and tips page.
Create a custom Close button on a Form
By default, Forms that you create in access training have a full set of control buttons, that is, a title bar with Minimize, Maximize and Close buttons in the top right-hand corner and a Control Menu in the top left-hand corner. Sometimes Access needs to follow certain procedures or events as users close a Form (such as automatically opening another Form perhaps). So it is often a good habit to create a custom Close button on a Form for everyone to use, rather than the standard closing cross.
To create a custom Close button:
1) In Form Design View, draw a Command Button onto the Form.
2) Use the Command Button Wizard to select Form Operations under Categories, and Close Form under Actions.
3) Choose Finish.
Access then creates the button and code to close the form for you. You can add any extra code that needs to run as the Form closes to the same Close procedure.

However, the creation of a custom Close button is pointless if the closing X in the top right-hand corner of the Form remains active. To make the closing X inactive, open the Form Properties box then on the Format tab set the Close Button setting to No. This will grey out the closing X leaving it visible, but inactive.
Display current date & time in column of any width - access+training
The worksheet function =NOW() returns the current date & time. When entered into a column which is not wide enough to display the value NOW returns, the cell displays ###'s.

You could widen the column to make the date and time show, but sometimes this is not convenient: the column may already be exactly the width you want to accommodate all entries in cells further below. Maybe you don't want to push any other columns any further to the right, because you won't be able to see the column contents on one screen, or because it forces you to change the print settings.

The solution is to use the TEXT function to convert the value returned by NOW to text: text (as opposed to a value) stretches into the next column rather than returning ###'s. The TEXT function has two arguments: 1. the value to convert to text; 2. what format to show it in. Use custom number codes in double quote marks to specify the format. For example =TEXT(NOW(),"ddd dd/mm/yy hh:mm") will return date and time using the format FRI 09/04/04 11:24.
Hiding Multiple Table columns
If you want to hide non-adjacent Access table columns. In Datasheet view, open the table that contains the columns you want to hide.

On the Format menu, click Unhide Columns. In the Unhide Columns dialog box, clear the check box next to the name of each column you want to hide. Click Close.

This method makes having to use the Hide Columns command repeatedly unnecessary
Sample forum questions
Taken from our Microsoft Access support forum
Attaching a msgbox/macro to a parameter after microsoft access courses
Is it possible to attach a msgbox to a parameter?
I have created a parameter in a query and the query is linked to a form. It is a date parameter. However it still aloows the user to enter an invalid date e.g. 31/04/07. I would like to attach a macro to the parameter to prevent the user from entering such invalid dates, using msgboxs and macro control-actions
- See the answer
access training Hide table in a splt database
I have recently attended access course microsoft training. I have split thedatabase and I want to stop other users from seeing my table in a soure database, thus giving complete security from other users.
- See the answer
Inserting Totals in a Report ( Access training)
Ok, need your help. I have taken a Text box for my Report Footer and inserted =Sum([exp]) in Control Source property...however am getting back #Error when I run the report.
Am I to put in another instruction in order to generate this .... ??
Help am really stuck,
- See the answer
Synchronising forms after access training
I have a form that has a control button which opens a subform. I am having difficulty synchronising the records to show they are from the same client. Any tips / suggestions?
- See the answer
See also: Microsoft access training