DreamWeaver Training Courses London and UK wide
Instructor-led DreamWeaver web design training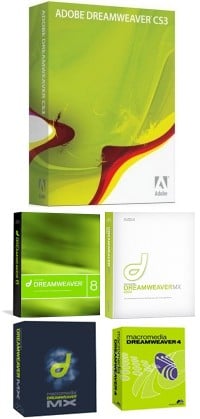 Our DreamWeaver training courses can be held at any of our London training centres, and on-site throughout the UK. Tailored and one-to-one Dream weaver web design courses, and DreamWeaver consultancy services are available upon request, please call for details.
DreamWeaver is a powerful What-You-See-Is-What-You-Get (WYSIWYG) web site building tool and is the industry standard for web page design software.
With DreamWeaver you can go from start to finish, creating and maintaining basic websites to advanced applications that support best practices and the latest technologies.
DreamWeaver Training Courses
Dreamweaver CS3 Introduction: 2 day course
DreamWeaver 8 Introduction
DreamWeaver 8 Intermediate
DreamWeaver MX Introduction
DreamWeaver MX Intermediate
DreamWeaver Advanced and Consultancy
What's the difference between the various versions of Dreamweaver?
Visit our Dreamweaver version differences page to find out.
Please call us if you require further information on our Microsoft training course Dreamweaver.
What is DreamWeaver?
DreamWeaver is a web authoring tool that allows web developers to code while viewing the site as they work. Instead of spending hours writing HTML tags to code a complex table, the developer can build the table, resize it, and view it exactly as it will appear on a web page.
Dreamweaver Course UK
For more information on our Dreamweaver + courses including: introduction to Dreamweaver London training course, course design Dream weaver web, course+design+Dream+weaver+web, courses+in+Dreamweaver, Dreamweaver-course and Dreamweaver course in London please see our Dreamweaver 8 Introduction page.
Dreamweaver Advanced Courses London
We run our advanced Dreamweaver courses as on-site or closed company events. We also offer web site consultancy and Dreamweaver courses London basic. For more information on our advanced Dreamweaver training course London, Dreamweaver+course+London, Dream+weaver+training+course and advanced Dreamweaver course London please see our Dreamweaver 8 Advanced page.
Dreamweaver 8 courses London
In addition to our Dreamweaver 8 training London we also run a 2 day Dreamweaver CS3 course. Our 2 day CS3 course will give you a solid grounding in the latest version of Dreamweaver. For more information please see our Dreamweaver CS3 page.
Training formats & services