Dreamweaver courses
Dreamweaver 8 Intermediate in London and UK wide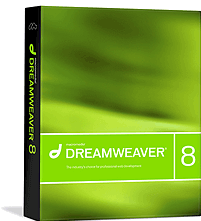 NEW: Dreamweaver CS3 training now available
Training formats available
Who is this training course suitable for?
Our Macromedia DreamWeaver intermediate course is suitable for those with a basic, working knowledge of DreamWeaver who want to progress their knowledge.
Prerequisites
Delegates should know how to use Dreamweaver's most basic functions or have completed our DreamWeaver Introduction course.
Benefits
On completion of this course you will be proficient in most of the features and functions of DreamWeaver. You'll be able to change the look of your pages in an instant using Cascading Style Sheets. You'll be able to further enhance your site by inserting multimedia items such as videos, flash animations. Also covered in this course are the use of layers, behaviours and form elements and processing. You will be able help attract visitors to the site by understanding META tags. The last part of the course will allow important miscellaneous topics to be covered.
Course Syllabus
CSS Layout
Designing a web page layout using CSS

Multimedia
Inserting flash buttons
Inserting flash text
Inserting videos
Inserting animations

Forms
Understanding forms
Different form elements
Using appropriate elements
Validating forms
Processing a form

Behaviours
Introduction to behaviours
Rollover images (swap image)
Pop-up messages
Pop-up windows and properties
Trigger events

Layers
Reasons to use layers
Create layers (insert and drawing)
Modify and move a layer
Applying behaviours to layers
Show/hide layers

Code
Examine coding tools
Using "Find and Replace"

Publishing
Accessibility
Validating HTML/CSS
Check in / Check out files

Extra
HEAD and META tags
Library items
Saving to earlier versions
Check browser version
Online Dreamweaver support
Validating w3c standards
Behaviours
"What do I get on the day?"
Microsoft qualified trainers with industry relevant experience
Modern air conditioned training suite, flat screen PC's, 1 per delegate
Lunch provided in a comfortable and relaxed setting
Comprehensive course material and files to take away
What is DreamWeaver?
DreamWeaver is a web authoring tool that allows web developers to code while viewing the site as they work. Instead of spending hours writing HTML tags to code a complex table, the developer can build the table, resize it, and view it exactly as it will appear on a web page.