Live training events status updates
Important information:
Updated: 8:01pm, Saturday 12th June 2021
UPDATE: Face-to-face training available now.
We have now resumed face-to-face training both on our public schedule and onsite.
You can find more detail
here
.
Our high quality virtual classroom delivery will continue, for public schedule and onsite/closed company groups. Please see more below.
STL virtual classroom training
We all have to accept our preferred face-to-face method just isn't an option right now. However,
virtual classroom training
that we have developed offers some benefits which can make it seem less of a compromise and more of a viable interim training solution.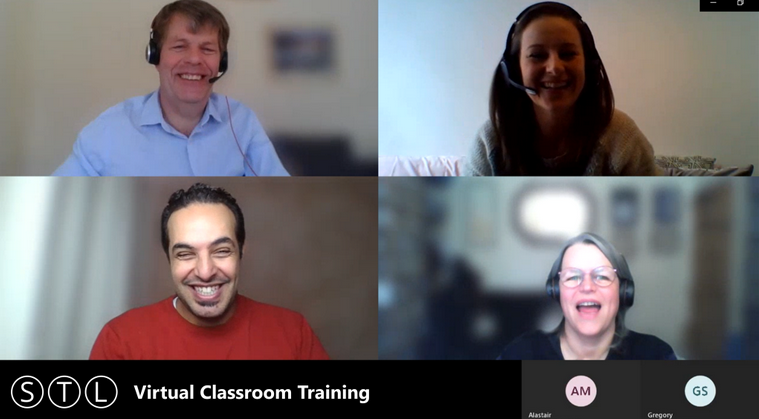 Our virtual classroom training is delivered by the same team responsible for achieving industry leading customer satisfaction ratings with face-to-face training, so rest assured you are in safe hands.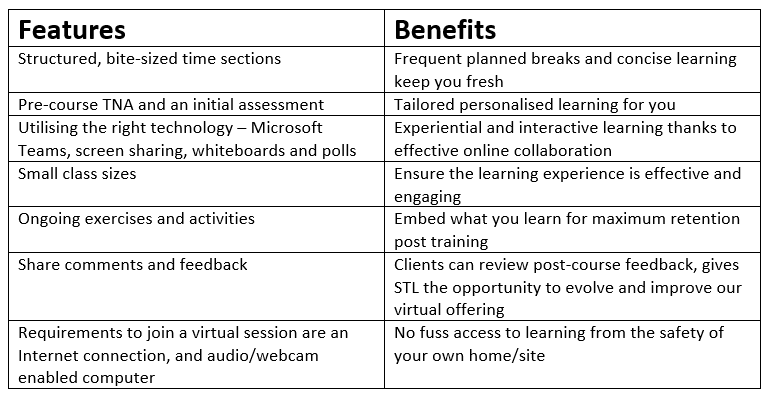 FAQs
I want to book some training for my colleagues. What are my options right now as they all work from home?
In line with the current government advice on social distancing, if your training is urgent (needs to be done in the next weeks or months) then our virtual classroom training is the way to go.
If you can wait until later in the year, you can book now as a priority customer for face-to-face delivery.
I am (or my colleagues are) booked to attend training courses with STL, what are our options?
As per our latest company statement (above) in most cases we are able to offer alternative training via our virtual classroom format. Please
get in touch
with us to discuss your specific situation in more detail.
What does a typical Virtual Classroom training day look like?
Here is an example of what you can expect when attending a virtual classroom delivery day. We use Microsoft Teams, the rapidly growing online collaboration tool used by over 44 million active users globally. Remember, the training is delivered by the same trusted team who deliver our face to face training with industry leading
customer satisfaction metrics
.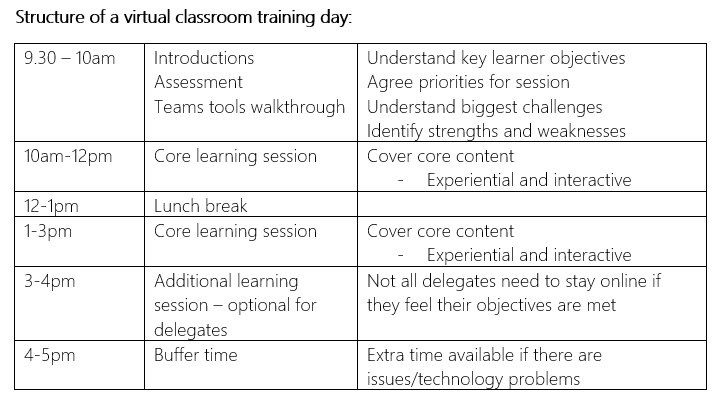 What is the pricing for virtual classroom training?
We are having to invest considerable resources into supporting and evolving our virtual classroom delivery, but we are keeping the pricing the same as face-to-face.
What training courses can you offer via virtual classroom training?
We can deliver most of our Soft Skills and Microsoft Applications portfolio. Please get in touch so we can recommend the appropriate training solution for your needs.
Here some trending courses:
• Managing Teams Remotely
• Office 365 & Microsoft Teams
• Effective Communication Skills
• Time Management with Outlook
How do join a virtual classroom training session?
You will log in remotely following a link from an invitation email, with no need to sign in for access. You just need to follow some basic technology/software checks before joining the training. We utilise Microsoft Teams, a fast growing standard for online collaboration and training.
We're looking at eLearning for our staff, can you provide this?
Yes, some of our clients see eLearning as a perfect compliment to their other training initiatives. We offer Microsoft Office eLearning is various formats. Soft Skills eLearning is more bespoke. We work with each customer in steps to source or design the most appropriate solution. Please
contact us
to learn more.