Information home » Excel information » Excel Training Courses
Excel Training Courses
544 Excel events next 12 months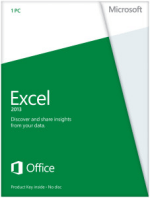 Excel Training Courses
Why Excel?
Microsoft Excel has established itself as the No1 spreadsheet application in the UK and the World. It is installed on around 75% of computers. It is very unlikely that you will manage to get through life without using Excel, so it makes sense to learn how to use it, so you can make your life simpler. What better method of learnining is there than instructor-led Excel training Courses?
Why Excel training courses?
By taking one or more Excel training courses you will instantly notice that your daily tasks become easier. Currently it is fairly likely that you will either be using Microsoft Excel as part of your job or you will be using it at home. Once you have taken an Excel training course you will find that you know a lot more about Excel and have a greater understanding of what it can do and how to use its features. The course will also put you into the position to get the most out of Excel.
Our Excel training courses are available in the following levels:
- Introduction
- Intermediate
- Advanced
- VBA
- VBA Advanced
Microsoft Excel Training Courses London
Our
Excel training courses
offer a friendly, supportive environment with a Microsoft qualified instructor. We currently have five venues for Excel training courses London:
- Bloomsbury Square (Holborn)
- Southwark
- Tower Bridge
- Bayswater
- Tooting
If it does not suit you to attend one of our training centres we also offer
excel training courses
and consultancy on-site anywhere across the UK and abroad.
What do you get on the day?
- Microsoft Qualified trainers with industry relevant experience
- Comprehensive course materials to take away post training
- Modern air conditioned training rooms, flat screen PCs, 1 per attendee
- Lunch provided in a comfortable and relaxed setting
-
What do I get on the day? - More information
Ensuring You Get The Best
All our Microsoft Excel training courses in London and UK wide are carefully evaluated. All delegate feedback is reviewed daily to ensure the all elements relating to training are delivered to the highest standard. This feedback is available for review by the management team, our trainers, delegates and also members of the marketing department.