Expression Web Courses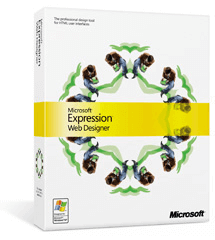 Expression Web Introduction in London and UK wide
2 days instructor-led course
Training formats available
Who is this training course suitable for?
Our Microsoft Expression Web 2-day course is suitable for complete beginners.
Expression Web is the latest web design package from Microsoft. It features an easy to use interface combined with a comprehensive array of Web standards that will suit both the casual/amateur to professional users.
Prerequisites
A working knowledge of Windows is required, or our Microsoft Windows Introduction course. No experience of Microsoft Expression Web is required.
Course Objective
At the end of this course attendees will be able to create a website using Expression Web, cover current web design standards using CSS/layers, work with images and insert advanced interactive elements.
Benefits
At the end of this course you will have a good working knowledge of Expression Web basics. You will be able to design a web site from scratch using tables and templates. You will learn how to create a web page, control text layout; link your pages together and insert graphics and ordinary tables. You will also learn how to format your website by using CSS (Cascading Style Sheets), how to upload your site on to the web using Expression Web.
Course Syllabus
Day 1
Starting Expression Web
Website basics
Introduction to the Expression Web Interface
Customizing the Expression Web Interface
Website Layout & design
Define the Website
Using Layout Tables
Define Standard Layout Components
Creating a Dynamic Web Template
Website content
Create a Home Page
Adding Text
Import Pages to the Website
Format Text
Work with Tables
Work with Images
Using CSS to format the website
CSS, what is it?
Creating an External Style Sheet
Attaching an External Style Sheet
Create an Internal Style Sheet
Modify an External Style Sheet

Working with Links
Create Hyperlinks
Create Bookmark Links
Format Text Hyperlinks
Create a Hotspot
Adding elements
Add an Interactive Button
Opening a Page in a New Browser Window
Create a Rollover
Add an Audio File
Day 2
Working with layers
Using Layers
What are Layers?
Adding Layers
Using Layers
Assigning behaviours to layers
Removing Layers
Adding Advanced Elements
Adding Forms
Adding Text Inputs and Areas
Adding Input Buttons
Using Labels and Radio Buttons
Adding Advanced Buttons
Adding Drop-Down or Group Boxes
Beyond Text
Adding Images and Files
Inserting a Picture File
Adding ClipArt
Inserting a File

Editing Images
Selecting an Image
Resizing an Image
Using cut, copy, and paste
Resampling a Photo
Using AutoThumbnail

Formatting Images
Using the Pictures toolbar
Modifying the Contrast and Brightness
Cropping a Photo
Recoloring a Photo
Changing Picture Properties

Doing More with Images
Adding Borders
Adding a Beveled Edge
Flipping and Rotating Images
Arranging Images
Adding Alternative Text
Completing & publishing the website
Confirm access
Check for Compatibility
Generate CSS Reports
Check the Site Summary Report
Publish the Website
"What do I get on the day?"
Microsoft qualified trainers with industry relevant experience
Modern air conditioned training suite, flat screen PC's, 1 per delegate
Lunch provided in a comfortable and relaxed setting
Comprehensive course material and files to take away
What is Expression Web?
Expression Web is a professional design tool that allows you to create modern, standards-based sites that deliver superior quality on the Web. It is a WYSIWYG HTML editor developed by Microsoft (replacing FrontPage). It is part of the Expression Studio suite and is targeted toward professional web site designers. Expression Web allows authoring of web pages integrating XML, CSS 2.1, ASP.NET 2.0, XHTML, XSLT and JavaScript into sites.