18-year performance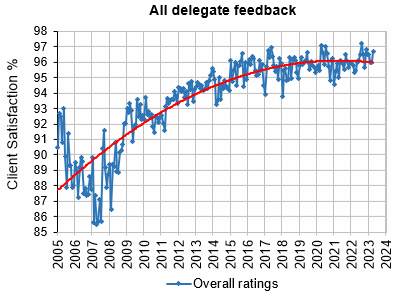 Samknows.com
Customer Service Executive
Atiqul
Recommended company for your training needs
I have recently been on two courses with this company and both experiences have been absolutely fantastic. The trainer was very well-mannered, made me feel very welcome, taught in a way that was easy to understand and always took the time to ensure everyone is on-track. The course pacing and content/material was great, very neatly organised and easy to follow. I recommend this company for anybody wanting to expand their skills.

Our training is better because we take more care. Here's how...
The graph depicts rising overall performance equating to rising ROI and client satisfaction.
18 years ago our training quality was much like the rest of our market. Most events went well; most clients enjoyed an acceptable return on investment. From time to time, things went wrong and customers bitterly complained that we had dropped the ball... we had. We were aware that a more systematic and critical approach was needed if we were to realise our ambition of best in-class training.
We decided to build a system that monitored the key aspects of training delivery and that helped reduce human error in logistics management. It took years of investment and continuous refinement, but it was worth it. Today, we believe our system —and the people that live with it— can deliver a more productive, less error-prone training delivery than is possible elsewhere.
We have evolved our training in many ways. We are not perfect, but we do deliver consistently better training, with less drop-off than is possible without this type of approach.
18 years ago we achieved a satisfaction rate of 87.1%. Today, we are proud of the 98.9% customer satisfaction rate this approach has made possible.
Try before you buy
Put us to the test.
We can arrange a trial where you can experience first hand "best in-class training". Call now.