Final Cut Pro X 101 Yellow Belt
Face to face public schedule & onsite training. Restaurant lunch included at STL venues.
Virtual classroom training continues. Can't find what you are looking for? Get in touch.
Syllabus
Who is this course for?
This class is designed for anyone looking to edit professional-quality video with Final Cut Pro and who prefers hands-on and interactive instruction to be explore it's functionality.
Objectives
Marking clips, using insert, overwrite and drag-and-drop editing
Trimming edit points, using Ripple, Roll and Extended edits as well as the Slip and
Slide tools
Applying filters and Changing Motion properties
Audio editing and audio creation and Finishing and final output
Students take an end user exam to earn Apple Certified Pro, Final Cut Pro Level 1

*Please note: Students can take a user exam (optional) to earn Apple Certified Pro, Final Cut Pro Level 1 status. The exam is an optional extra and costs an additional £150 plus VAT.

Prerequisites
Students should ideally have knowledge of Mac OS X and basic computer navigation; basic knowledge of editing terminology is recommended.
Benefits
This Apple Final Cut Pro (FCP 101) training course is a three-day, hands-on course that teaches students to perform basic editing functions while becoming familiar with the Final Cut Pro user interface. In this course, you will cut a scene from the TNT television series Leverage, create a promo for Seaworld's 'Believe documentary', as well as master filters and effects as you edit a segment of Playing for Change, the international music-creation event.

The class follows the authorised Apple course content leading to the formal Apple Final Cut Pro Certification*. Certification creates a benchmark to assess your proficiency in a specific Apple Pro application. By taking and passing an exam, you earn Apple Certified Pro status, which allows you to distinguish yourself to colleagues, employers, and prospective clients as a skilled user of the chosen application. Certification gives you a competitive edge in today's ever-changing job market. The Apple Pro level 1 exam in Final Cut Pro is available for an additional cost of £150.00 plus VAT.

Course Syllabus
Preparing to Edit in Final Cut Pro X
Exploring the Interface
Importing Footage
Organising Clips in an Event
Organising Optimising & Analysing
Organising Media with Keywords
Working in the Project Library
Working in the Event Library
Creating a Rough Cut
Building the Rough Cut
Performing Insert Overwrite & Connect Edits
Adding to the Storyline
Fine-Tuning a Rough Cut
Using the Trimming Tools
Replacing Clips & 3 Point Editing
Auditioning Clips
Adjusting Clip Timing
Creating Secondary Storylines & Compound Clips
Completing the Cut
Editing the Soundtrack
Applying & Modifying Transitions
Creating Hold Frames & Re-timing Video
Controlling Video Quality
Working with Music
Enhancing the Soundtrack
Adding simple titles
Applying Effects & Finishing
Adding Effects
Matching & Correcting Colour
Secondary Colour Correction
Working with Themes & Placeholders
Applying & Animating Titles
Transforming, Cropping & Distorting Images
Working with Generators & Backgrounds
Exporting and Sharing a Project
Publishing for web and devices
What you get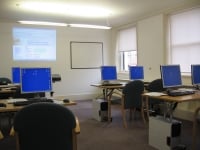 Fully air condition rooms with high-spec PCs
Networking opportunities with fellow delegates
"What do I get on the day?"

Refreshments
Refreshments served all day

Internet
High speed internet access
Learning tools

Reference material
All course training materials

Support
2 months post-course email support