Final Cut Pro X 201 Green Belt
Face to face public schedule & onsite training. Restaurant lunch included at STL venues.
Virtual classroom training continues. Can't find what you are looking for? Get in touch.
Syllabus
Who is this course for?
This class is designed for those who already have a working knowledge of Final Cut Pro X and who want to increase their skills by learning advanced features and efficient workflows.
Objectives
Working with Compound Clips and auditions.
Organizing projects with advanced Metadata techniques.
Targeting specific areas to color correct with shape and color masks.
Finetuning clips in the timeline with the Precision Editor.
Working with Compressor.
Creating custom effects and transitions.
Finishing and final output.


Prerequisites
Knowledge of Mac OS X and basic computer navigation.
Thorough knowledge of editing terminology is highly recommended.
Ideally, students will have attended Final Cut Pro X 101 Yellow Belt.
Benefits
Final Cut Pro X is a revolutionary video editing application that makes it possible for beginners and seasoned professionals to achieve stunning results. This three-day, hands-on course teaches hard-to-find advanced editing and finishing techniques. Learn how to create fantastic effects using filters creatively, color correct like a pro, and create complex audio mixes. This course also covers advanced workflows for managing media, including using Compressor.
Course Syllabus
Overview of Editing Basics
Review of Basic Editing Techniques
3-point Editing Rule and Track Targeting
Advanced Editing Techniques
Smart Clip Loading
Using Match Frame
Using Replace Edit and Ganging Playheads
Trimming Basics
Basic Rolling
Extend Edit
and Splitting Edits
Advanced Trimming
Trimming from the Keyboard
Trim Edit Window
Dynamic Trimming
Multi-track Trimming and Asymmetrical Trimming
Audio Editing
Adjusting Levels on the Fly
Adjust Levels Dialog
Applying Normalization Gain
Using Audio Filters- sending to Soundtrack Pro
and Using the Audio Mixer Window
Multicam Editing
Basic Multicamera Edits
Working with Multiple Angles
Editing Audio and Video Separately
Collapsing and Un-collapsing Multiclips
Match-framing Multiclips
Applying Effects to Multiclips and Multiclips and External Video
Compositing in Final Cut Pro
Basic Compositing Review
Creating Travel Mattes
Adding Graphics from a Layered Photoshop File
Keyframing Basics and Keyframing in the timeline
Mastering Filters
Customizing Filters
Understanding Filter Order
Filter Timing
Limiting Filter Effects
Creating Favoirte Filters
Hiding and showing Filter Controls and Working with Smoothcam
Nesting Sequences
Understanding Nested Sequences
Using Basic Nesting
Nesting in Place
Working Around Render Order
Mixing Sequence Sizes
Nesting as an Editing Tool
Nesting Master Filters and Unnesting
Preparing for Finishing
Nesting Sequences
Unnesting Sequences
Adding Widescreen mattes
Adding BITC
Managing Audio Outputs
Using the Media Manager and Exporting EDLs and XML Files
Troubleshooting Tips
Fixing Screen Direction Errors
Stealing Audio from Another Shot
and Removing a Boom
Outputting
Sharing to Apple Devices
Sharing to DVD and BluRay
Sharing for the Web
Using Compressor
Outputting Audio
Exporting Still Frames and Exporting QuickTime Movies
What you get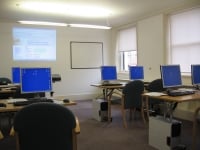 Fully air condition rooms with high-spec PCs
Networking opportunities with fellow delegates
"What do I get on the day?"

Refreshments
Refreshments served all day

Internet
High speed internet access
Learning tools

Reference material
All course training materials

Support
2 months post-course email support