Information home » PowerPoint information » PowerPoint Presentation Training Course
PowerPoint Presentation Training Course
102 PowerPoint events next 12 months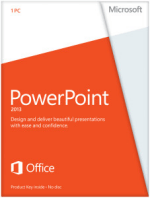 Microsoft Office power point courses
UK market leader
We are the market leader in the delivery of MS Office instructor-led training.
We are the largest provider of Microsoft Office training in London and the UK. We qualify this statement by asking you to find a more regular schedule of Microsoft office training.
Live online schedule with current pricing
We have an online "EasyJet" style booking system - the further ahead you book your Microsoft
power point courses
, the lower the cost! Just visit
https://www.stl-training.co.uk
to check our live schedule of one day
Microsoft Office Powerpoint courses
and to make your booking.
Our promotional rates for one day Microsoft training are available for as low as £75.
With a whole bunch of new tips and tricks, PowerPoint 2013 comes fully loaded with features including presenter view and annotation accessories. If you're thinking of upgrading to Office 2013, you'll need to send your employees on a
PowerPoint Presentation Training Course
.