Edge Animate 101 Yellow Belt
Face to face public schedule & onsite training. Restaurant lunch included at STL venues.
Virtual classroom training continues. Can't find what you are looking for? Get in touch.
Adobe Edge Animate uses CSS, HTML, and JavaScript to create animated web content, which makes it feasible for search engine, indexing and screen readers.

Syllabus
Who is this course for?
This course is aimed at designers and developers (and anyone in between) who are new to Adobe Edge and want to get to grips with the user interface and create web standard animations and interactivity.
Objectives
The interface and tools
Integrating text and other content
How to animate
Add interactivity
Save and publish a project

Prerequisites
As this course is aimed at beginners, all that is assumed is that the delegates are familiar with the web, its terminology and how Edge is used within this environment.
Benefits
This course introduces Edge, an Adobe design tool that uses web standards for incorporating smooth animations and interactivity into projects. You will learn to create motion content in the application's timeline-based interface. This course also covers importing and keyframing web graphics and adding interactivity to projects.


Course Syllabus
Introduction
What is Adobe Edge Animate
Understand the role of HTML, CSS and Javascript used by Edge
Understand animation basics and requirements
Document Setup
Control document size and colour
Control and understand document overflow
Explore the Interface
Selection tools and methods
Drawing tools and settings
Text and settings
The stage
The Elements panel
The Properties panel
The timeline panel
Workspaces; choose, create and reset
Use the Timeline
Discover the Timeline controls
Hide and show contents
Create movement
Reverse movement
Create transitions and fades
Work with Keyframes/Auto-Keyframing
Play your animation
Learn playback controls
Use and understand the Pin
Use and understand Triggers
Use Labels
Animation
Apply Easing for the professional look
Create Smooth transitions
Animate content on your existing web page
Copying and pasting animation
Control timing
Control object transformations
Move animated content
Animate along a motion path
Preview in a browser
Projects and Interactivity
Create an image gallery
Create a parallax effect
Create web adverts
Creating hotspots
Create hyperlinks/web links
Add Events for mouse interactions
Add Triggers
Create Looping
Create mask effects
Create pop-ups
Create navigation
Save and publish
Importing graphics
Understand graphic types
Import and use SVG, GIFs, JPGs and PNGs
Understand the Adobe creation workflow
Responsive projects
Setup a responsive project
Make items in the project responsive
Set min and max document size!!Sound and videos
Add sound files to a project
Control sound using different methods
Add video files to a project
control videos using different methods
Scripts
Enhance a project using scripts
How to make scripts work
Export and publish
For the web
Integrating with other applications
 
What you get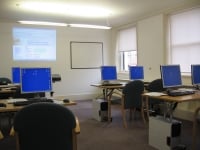 Fully air condition rooms with high-spec PCs
Networking opportunities with fellow delegates
"What do I get on the day?"

Refreshments
Refreshments served all day

Internet
High speed internet access
Learning tools

Reference material
All course training materials

Support
2 months post-course email support