Captivate 201 Green Belt
Face to face public schedule & onsite training. Restaurant lunch included at STL venues.
Virtual classroom training continues. Can't find what you are looking for? Get in touch.
Syllabus
Who is this course for?
This course is for intermediate Captivate users who would like to create software demonstrations and interactive simulations. Captivate appeals to a wide variety of audiences, typically grouped in training and education, sales and marketing, or technical support and documentation.
Objectives
Understanding how to use Captivate's advanced features will revolutionise the way you work. Take your Captivate skills to the next level.
Adobe Captivate hands-on training provides students with the knowledge and hands-on practice they need to develop and build software demonstrations and interactive simulations with Captivate. In addition to learning key concepts, students also learn best practices for creating and publishing Captivate projects.

Prerequisites
It is assumed you have already taken the Adobe Captivate 101 Yellow class with Academy Class or have the equivalent experience. Please check the course content from the 101 class to make sure you are fully prepared.
Benefits
Importing & Branching
Advanced Actions
Question Pools
Learning Management Systems
Accessible Projects
Project and Design Templates
Variables, widgets & buttons

Course Syllabus
Question Pools
Create a question pool
Add questions to a question pool
Export question pools
Insert random question slides
Use the question pool manager
Create multi answer feedback
Add partial and negative quiz scoring
Widgets
Insert widgets to enhance the project
Edit widgets to enhance the project
Setup widgets with variables
Buttons
Smart shape buttons
Create custom buttons using Photoshop and Captivate
Create toggle buttons using advanced actions
Advanced interaction
Add document information for use with system variables
Create & insert system variables
Create & insert user system variables
Create sound toggle buttons
Using variables to gather data
Display variable data within a project
Create advanced Interactions
Create multiple interactions
Control object visibility
Named items
Text entry boxes for user input
Create project navigational buttons
Writing scripts
Attach a script to a slide
Create conditional actions
Use IF and ELSE conditions
Projects
Learn to create complex projects
Create breadcrumb trail
Create a slide counter
Create navigation buttons/menu
Create a sequence visibility
Create a password protected project
Create a forced interaction
Creating flash based content
Create HTML 5 friendly content
Output to HTML 5
And many more!
Animation
Add animation to a project
Create trigger based animation
Advanced interaction
Customise Captivate widgets
Create interactive navigational buttons
Create advance image map navigation
Inserting animation
Create animations for inclusion into Captivate
Image editing with Photoshop
Edit slide backgrounds
Create custom buttons using correct naming conventions
Optimising projects
What you get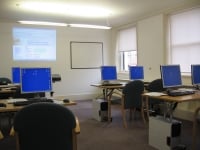 Fully air condition rooms with high-spec PCs
Networking opportunities with fellow delegates
"What do I get on the day?"

Refreshments
Refreshments served all day

Internet
High speed internet access
Learning tools

Reference material
All course training materials

Support
2 months post-course email support