Advanced Word Training London
Microsoft Word 2000 Advanced Training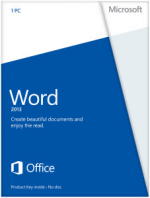 1.0 day instructor-led. Courses never cancelled. From £175 (list price £299)

Who is this training course suitable for?
This Microsoft Word 2000 Advanced course is designed for those with experience of working regularily with Word's most fundamental functions and wish to understand and adopt the most complex functions and features.
Prerequisites
You should be comfortable with working with Word documents, or have attended our Word Intermediate course.
Benefits
At the end of this course, as well as consolidating your understanding of Word's fundamentals, you will be proficient in the higher functions of Word. You will be able to perform the most advanced functions, including mail-merging your documents with databases for mail-shots and formatting well-defined forms. You will be able to work with very large and multiple documents and to use macros to automate repetitive functions. Finally, you will be able to retrieve and collate word files.
Course Syllabus
Creating Form Letters and Addressing Envelopes
Using the mail merge wizard
Using data sources
Merging addresses into mailing labels

Working with Forms
Creating forms
Exploring form field data types
Modifying forms
Protecting forms

Working with Large Documents
Creating master documents and tables of contents
Using endnotes and footnotes
Creating indexes
Working with bookmarks and cross-references

Managing Document Revisions
Tracking changes in a document
Comparing document versions
Adding comments and highlighting

Automating Actions with Macros
Recording and running macros
Editing macros
Using macros in forms

Customising your Word environment
Creating and deleting custom menus
Creating and deleting custom toolbars
Our Microsoft Qualified instructors provide training for all popular versions of Microsoft Word. This advanced Word 2000 training will provide you with a working understanding of the basic features of Microsoft Word.
Public Schedule - Pricing and Availability

Word Advanced
1 day course
"What do I get on the day?"
Microsoft qualified trainers with industry relevant experience
Modern air conditioned training suite, flat screen PC's, 1 per delegate
Lunch provided in a comfortable and relaxed setting
Comprehensive course material and files to take away
Please call us if you require further information on Advanced Word Training in London and UK Wide.
What is Microsoft Word?
MS Word is a full-featured word processing program with rudimentary desktop publishing capabilities that has become the most widely used word processing application on the market. Microsoft Word is a powerful word processing program that you can use to produce professional-looking documents. Word allows you to easily combine text, spreadsheets, and graphics into a single application. You can also use Word to create your own Web pages. Word's assortment of pull-down menus, toolbars, and buttons make learning and using it remarkably easy.