ITIL Practitioner
Face to face public schedule & onsite training now available. Lunch currently unavailable.
Virtual classroom training continues. Can't find what you are looking for? Get in touch.
3 days Instructor-led workshop
This highly practical course is designed to show students 'how' to implement service improvements based around ITIL's philosophy of 'Adopt and Adapt'. It has a holistic syllabus and combines all 9 guiding principles of service improvement, the Service Improvement Approach, Communication, Metrics and Measurement, Communication, and Organisational Change Management with practical exercises and exam technique. The course acts as a full preparation for the ITIL practitioner examination.
Syllabus
Who is this course for?
The course is aimed at: -

Those engaged in IT development, IT operations and IT service management.

Individuals wishing to have detailed understanding of the principles of service improvement.

Objectives
After completing the course, students are familiar with the following aspects of ITIL :

Understand how to define services in terms of value, cost, outcomes and risk

Using the guiding principles of service improvement

Anchoring programmes to the service improvement approach

Appreciate and act on organizational change principles

Be able to define and report using meaningful metrics

Plan effective communications for improvement

Be ready to sit the ITIL practitioner examination

Prerequisites
ITIL foundation V3 equivalent, V3 or 2011 is a mandatory requirement
Benefits
ITIL Practitioner covers the Continual Service Improvement (CSI) approach as the way to structure any improvement initiatives and follows 9 Guiding Principles, while also covering three key areas crucial for success of any improvement initiatives:
Organizational Change Management

Communication

Measurement and Metrics.


Course Syllabus
Service Management Concepts
Adopt and Adapt
VOCR – Value, outcomes, costs and risks
Guiding Principles
Focus on value
Design for experience
Start where you are
Work holistically
Progress iteratively
Observe directly
Be transparent
Collaborate
Keep it Simple
Service improvement Approach
What is the vision?
Where are we now?
Where do we want to be?
How do we get there?
How do we know we've arrived?
How do we keep the momentum going?
Organisational Change Management (OCM)
What is OCM?
Sources of resistance
People transition
Stakeholder management
Sponsor management
Resistance management
Reinforcement
Metrics and Measurements
CSFs and KPIs
Metric cascades and hierarchies
Metric categories
Assessment
Reporting
Communication
Issues caused by poor communication
Benefits of good communication
Communication essentials
Communication principles
Communication types
What you get
"What do I get on the day?"
Face-to-face training

Training is held in our modern, comfortable, air-conditioned suites.
Lunch
Lunch is provided at a local restaurant or pub. Browse the sample menus:
Breaks and timing
Courses start at 9:30am.
Please aim to be with us for 9:15am.
Joining information (how to get to our venues)
Refreshments
Available throughout the day:
Hot beverages
Clean, filtered water
Biscuits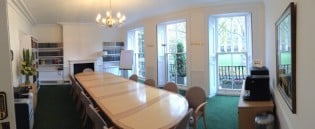 Virtual training

Regular breaks throughout the day.
Learning tools

In-course handbook
Contains unit objectives, exercises and space to write notes
24 months access to trainers
Your questions answered by qualified trainers online.
Training formats & Services
The course leads up to the Axelos ITIL practitioner exam. Successfully passing (70%) the 1 hour 45 minute, open book examination, consisting of 40 case study based multiple-choice questions, leads to the ITIL practitioner certificate. This is worth 3 credits towards the ITIL expert award.

Exams can be organised after training by attendance at authorised testing centre, or proctored online.