Skype for Business - Training course
London and UK
Face to face public schedule & onsite training now available. Lunch currently unavailable.
Virtual classroom training continues. Can't find what you are looking for? Get in touch.
Skype for Business is an authoritative integrated communications client. Users are able to send instant messages, make voice or video calls, and broadcast their availability. They are also able to share presentations and applications.
Skype for Business can help to make staff more efficient and improve communication within the organisation and with people outside the organisation. As this tool is often new to users, the use of Skype may be limited without training.
This course introduces end-users to Skype for Business, teaching them to use the communication tools and facilities that are now so prominent throughout Windows, Microsoft Office and Office 365 (for more info, check out our
Office 365 training
courses).
Syllabus
Course Syllabus
Your availability, AKA Presence
Set availability and see others availability (throughout Microsoft Office)
Change your presence information
Presence status meanings
Contacts
Finding the correct person through Skype for Business
Build/manage contact list in Skype for Business
Using groups and frequent contacts
Viewing full information about a contact
Instant Messaging (IM)
How to send/receive instant messages
Participation in a group IM session
What happens if you don't respond to an IM?
Saving IM conversations
Using IM rather than phone or email
Voice Calls
How to check microphone and speakers
Making voice calls with Skype for Business
Accepting or declining calls through Skype for Business
Locating and calling users from Skype for Business and anywhere in Office
Intro to audio conferencing
How to change call settings
Delegate Management
Forwarding a call to another person
How to manage calls for someone else
Video Calls
How to check webcam settings
How to make a video call
How to change video settings
One-to-one calls, video conferencing
Virtual Meetings
How to schedule or create virtual meetings
How to organise and run a virtual meeting
How to connect outside users to a virtual meeting
Sharing Presentations and Applications
How to share desktops and applications
How to use whiteboards, polls, other meeting tools
How to control virtual meetings and webinars
Recording
How to record calls and virtual meetings
Sharing and managing recordings
Advanced Skype for Business usage (if technically supported)
How to use Skype for Business with other devices, including mobile
How to call outside of your business/organisation
What you get
"What do I get on the day?"
Face-to-face training

Training is held in our modern, comfortable, air-conditioned suites.
Modern-spec IT, fully networked with internet access
Lunch
Lunch is provided at a local restaurant or pub. Browse the sample menus:
Breaks and timing
Courses start at 9:30am.
Please aim to be with us for 9:15am.
Joining information (how to get to our venues)
Refreshments
Available throughout the day:
Hot beverages
Clean, filtered water
Biscuits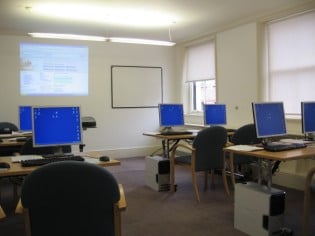 Virtual training

Regular breaks throughout the day.
Learning tools

In-course handbook
Contains unit objectives, exercises and space to write notes
Reference material
Available online. 100+ pages with step-by-step instructions
24 months access to Microsoft trainers
Your questions answered by Microsoft qualified trainers online.
Training formats & Services