Cinema 4D 201: Green Belt
Face to face public schedule & onsite training. Restaurant lunch included at STL venues.
Virtual classroom training continues. Can't find what you are looking for? Get in touch.
Syllabus
Who is this course for?
This course is for anyone who works in Broadcast, architecture, design, production and games. It is designed for those who already use another 3D package or have gone through some tutorials by themselves.
Objectives
By the end of the course you will be able to start using Cinema 4D within a production environment for simple to moderate tasks.
Prerequisites
You will have taken or have equivalent knowledge of the Cinema 4d 101 Yellow Belt course
Benefits
Cinema 4D has a very wide range of uses for creating both still images for print & web along with animation suitable for TV or film. Common uses include visualisations for architecture, products and interiors. Cinema 4D also has a firm standing in the medical and special effects arena due to it's tight Adobe integration.
Course Syllabus
Modelling
Deformers
Optimising meshes
Materials
Body Paint 3D
Introduction to UV maps
How to use Body Paint 3D to create textures
How to leverage Adobe Photoshop to really enhance the texturing process.
Rendering
Lighting schemes
Improve quality
Enhance realism
Vastly reduce render times
Animation
Animating everything
F-Curve control
MoGraph Objects
Tracers and MoSplines
Fracture
MoGraph Effectors
Creating simple animations
Audio animations
MoGraph Text animations
 
What you get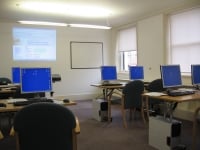 Fully air condition rooms with high-spec PCs
Networking opportunities with fellow delegates
"What do I get on the day?"

Refreshments
Refreshments served all day

Internet
High speed internet access
Learning tools

Reference material
All course training materials

Support
2 months post-course email support