SharePoint 2010 Designer Introduction Training Course
Get started with Microsoft SharePoint
Face to face public schedule & onsite training. Restaurant lunch included at STL venues.
Virtual classroom training continues. Can't find what you are looking for? Get in touch.
About SharePoint Designer
SharePoint Designer enables you to rapidly create SharePoint solutions in response to your business needs.

You can create collaborative sites and web publishing to encompass a variety of common scenarios, from to Line-Of-Business data integration, business intelligence solutions, and human workflows.

Syllabus
Who is this course for?
This course is for advanced SharePoint end-users and administrators who will be responsible for customising the look and feel of a SharePoint deployment and also providing additional bespoke functionality that is not possible by using browser customisation options.
Prerequisites
Delegates attending this course would need to have attended or equivalent knowledge of the SharePoint 2010 End User courses
Benefits
At the end of this 2-day you will become experienced with SharePoint designer in both creating new sites and editing/customising existing ones using cascading style sheets.
After completing this course you will be prepared to attend the
SharePoint 2010 Designer Advanced
training course
Course Syllabus
USING THE WEB BROWSER TO CUSTOMIZE SHAREPOINT
SharePoint publishing features
Document libraries and Web Parts
Create new pages and add content
Apply different master pages and CSS to sites
SharePoint themes
Change the navigation
Office authoring customizations
Create workflows using the browser
SHAREPOINT DESIGNER BASICS
Connect to an existing SharePoint site
Navigate within SharePoint Designer
SharePoint site folders
Create new pages and content
Editing features
Differentiation between editing publishing and non-publishing sites
CREATING SHAREPOINT SITES USING SHAREPOINT DESIGNER
Create a new site and publish the site to the existing site collection
Add new SharePoint content to the site including Web Parts, forms, and tables
Custom behaviours
Web components
CONTENT PAGES
Understand the role of page layouts
Work with out-of-the-box page layouts
Inner workings of page layouts
Build new page layouts
CASCADING STYLE SHEETS
Review the out-of-the-box CSS files and classes
Modify out-of-the-box CSS files
Create new CSS files
SAVING SITES AS TEMPLATES
Differences between templates and site definitions
Export or save customized site as a SharePoint site template
Create a new site in SharePoint based on a custom template
What you get
"What do I get on the day?"
Face-to-face training

Training is held in our modern, comfortable, air-conditioned suites.
Modern-spec IT, fully networked with internet access
Lunch
Lunch is provided at a local restaurant or pub. Browse the sample menus:
Breaks and timing
Courses start at 9:30am.
Please aim to be with us for 9:15am.
Joining information (how to get to our venues)
Refreshments
Available throughout the day:
Hot beverages
Clean, filtered water
Biscuits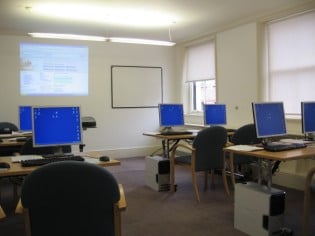 Virtual training

Regular breaks throughout the day.
Learning tools

In-course handbook
Contains unit objectives, exercises and space to write notes
Reference material
Available online. 100+ pages with step-by-step instructions
24 months access to Microsoft trainers
Your questions answered by Microsoft qualified trainers online.
Training formats & Services