After Effects Jumpstart: Zero to HERO
Face to face public schedule & onsite training. Restaurant lunch included at STL venues.
Virtual classroom training continues. Can't find what you are looking for? Get in touch.
Syllabus
Who is this course for?
This course is for people new to After Effects. Perhaps someone who wishes to work in the video field or who currently works in the field, or an Adobe application user looking to expand their skills and add effects to video projects. Some students may be mainly interested in creating video primarily for the Web, and others for film, but the majority are preparing more for work in broadcast video. The later part of this After Effects course you will master the concepts and advanced features of this program. It includes many advanced features, including tips and tricks using the latest version.
Objectives
On this course you'll become familiar with the After Effects interface. You'll learn to create animations, work with layers, apply effects, work with masks and mattes. In addition, you'll also learn about type, use color effectively and to export files. You will also go on to learn Keyframe Complexity, graphs, keyframe graphic editor, expressions, render queue, path text, masks, color keying, track mattes, compound effects, Affiliate Marketing motion stabilization and tracking.
Prerequisites
Before taking this course, you should have a basic understanding of your computer's operating system.
Course Syllabus
After Effects User Interface and Animation
What's a project file & what's in it?
Tools & panels
Workspaces
Basic Animation
Transform properties of layers
Keyframing: making element move
Importing Photoshop & Illustrator files
Intermediate Animation
In depth Keyframe manipulation & interpolation
Graph editor
Motion Sketch/Smoother
Auto-Orient/Motion
Blur
Roving
Keyframes,
Anchor Point/Pan Behind Tool
Panning a large graphic: technique
Hold Keyframes
Layer Control
Keyboard shortcuts
Quality
SlipTool,
Sequence layers
Solo Switches
Looping footage
Image sequences
Frame Rate vs. Time Stretch
Blending Modes
Effects & Solids with Blending Modes
Effects & Presets Panel
Adjustment layers
Transparency
Masks
Shape
Feather
Expansion
Masking with the Pen Tool
Bezier curves,
Mask Shape Interpolation
Mask modes,
Mattes and Stencils
Mask shapes
Type and Titles
Simple Rules of Titling
Basic text
Text animators/range selectors
Randomising
Applying & saving text animation presets
Per character animator
Nesting
Precomps
Editing Precomps,
Locking panels
Render Order
How After Effects put it all together
Exporting Files
Render Queue
Export As/Same Frame As
Pre-render
Keyframes
Different types of Keyframe
Velocity
Keyframe shortcuts
Keyframe graph editor
Type, Draw, Paint
All About Alphas
Working with Photoshop
Dots, pixels & Inches
Working with Illustrator
Plugging in Type
The Matrix
Particle Playground
More On Effects
Production Bundle Effects Round-Up
Compound Effects
Animation Assistants
Additional Assistants
Motion Fun
Express Yourself
Animation & behaviour presets
Keying
Using Keylight
Time and Tracking
Time Remapping
Time Games
On Stable Ground
Motion tracking
Time warp
Expressions
Writing a simple expression
Linking expressions to motion track
Working with 3D
Cameras
Lights
3D layers
NLE Integration
Integration 101
Integration with Nonlinear Editing Systems
Format Issues and Rendering
Video issues
Playing the field
3:2 pulldown
Luminance & IRE issues
Working with D1/DV NTSC
Working with widescreen
Pre-rendering & proxies
Advanced 'Rendering-Render Farm Concept'
What's Your Preference?
The 'Secret Preferences'
What you get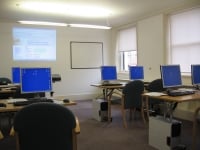 Fully air condition rooms with high-spec PCs
Networking opportunities with fellow delegates
"What do I get on the day?"

Refreshments
Refreshments served all day

Internet
High speed internet access
Learning tools

Reference material
All course training materials

Support
2 months post-course email support