After Effects 201: Green Belt
Face to face public schedule & onsite training. Restaurant lunch included at STL venues.
Virtual classroom training continues. Can't find what you are looking for? Get in touch.
Syllabus
Who is this course for?
Graphic professionals who want to enhance their motion editing and compositing and experienced users will benefit from the many tips, tricks and special exercises included in this course which covers many advanced features. We also recommend this course for those planning to obtain the Adobe Certified Expert, ACE, status in After Effects.
Objectives
You will learn Keyframe Complexity, graphs, Keyframe graphic editor, expressions, render queue, path text, masks, color keying, track mattes, compound effects, motion stabilisation and tracking, render order/pre-composing, 3D animation.
Prerequisites
Before taking this course, you should have already have acquired skills and knowledge from the After Effects 101 training course.
Benefits
Adobe After Effects is the industry leader for Video Compositing that allows you to create QuickTime movies for output on the Web, CD ROM, Monitor, or full-motion broadcast quality video for television. You will learn how to mix a number of still images together to create a moving texture. Placing Compositions into other Compositions, using Keyframes & Layers, and Effective Rendering techniques will also be covered.
Course Syllabus
Beyond the basics
Adding custom easing
Advanced time remapping
Scene blur
Frame blending
Combine effects
Compositing 3D objects and 2D footage
3D lights
Creating shadow effects in 3D
3D camera tracking
Green screen and rotoscoping
Working with shapes and vectors
Generating strokes
Adding and animating layer styles
Animating outlines
Advanced type animation
Animating Masks
External controls
Animating characters
Advanced null control
Using sound to control layer properties
Re-creating common effects
Jittery text
Double exposure
Kinetic typography
Slick object transitions
Sequential compositions
What you get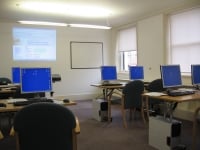 Fully air condition rooms with high-spec PCs
Networking opportunities with fellow delegates
"What do I get on the day?"

Refreshments
Refreshments served all day

Internet
High speed internet access
Learning tools

Reference material
All course training materials

Support
2 months post-course email support