After Effects 101: Yellow Belt
Face to face public schedule & onsite training. Restaurant lunch included at STL venues.
Virtual classroom training continues. Can't find what you are looking for? Get in touch.
Syllabus
Who is this course for?
Anyone who wishes to work in the video field or who currently works in the field, or an Adobe Application user looking to expand his or her skills, looking to add effects to video projects. Some students may be mainly interested in creating video primarily for the Web, and others for film, but the majority are preparing more for work in broadcast video. This course is for people new to After Effects.
Objectives
Bring your vision to life with blockbuster visual effects and compelling motion graphics in Adobe After Effects Professional software. Work with sophisticated tools and enjoy tight integration with Adobe's leading design applications while you deliver stunning work to virtually any media type.
Prerequisites
Before taking this course, you should have a basic understanding of your computers operating system.
Benefits
On this course you'll become familiar with the After Effects interface learning to create animations, work with layers, apply effects, work with masks & mattes, use color effectively and export files.
Course Syllabus
Project basics
User interface and workspaces
Setting up projects!
Importing media
Creating compositions
Working in 2D
Default transform properties of layers
Adding and manipulating Keyframes
Understanding Keyframe types and easing
Pre-composing multiple layers for better controll
Animating along paths
Motion tracking
Adding text and solid fills
Adding color effects and adjustment layers
Using the shape and pen tool
Creating and animating masks
Understanding blend modes
Controlling the speed, direction and duration of animation
Using image sequences
Working in 3D
Creating 3D layers
Using multiple views!Building 3D scenes
Adding camera
Text in 3D
Parenting
Controlling 3D object and camera movement
What you get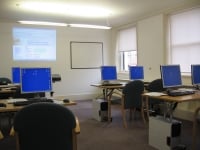 Fully air condition rooms with high-spec PCs
Networking opportunities with fellow delegates
"What do I get on the day?"

Refreshments
Refreshments served all day

Internet
High speed internet access
Learning tools

Reference material
All course training materials

Support
2 months post-course email support