3ds Max Jumpstart Zero to Hero
Face to face public schedule & onsite training. Restaurant lunch included at STL venues.
Virtual classroom training continues. Can't find what you are looking for? Get in touch.
Syllabus
Who is this course for?
This is for people who want to create 3D graphics for print or animation. Target customers are architectural practices, visualisation studios, production houses, advertising agencies or other such departments that work in large organisations.
Objectives
Zero to 3DS Max HERO in just 5 days! This five day technical training course is designed to help you learn everything you need to create 3D content using 3DS Max. 3DS Max Jumpstart Zero to HERO will focus on learning the basics of modelling, material creation, animation, and scene generation. Learn the capabilities of the interface, how to work efficiently, and how to apply toolset in the workplace. This class will take you past the basic level into an intermediate skill-set.

Course includes the Autodesk 3DS Max Autodesk Certified User accredited exam; the Autodesk 3DS
Max Professional exam is available for an additional fee of £150.00 plus VAT.

Prerequisites
Attendees require only a very general knowledge of 3D and its concepts although a basic understanding of computer hardware and software is essential. Knowledge of other digital media packages is an advantage but not a necessity.
Benefits
You'll learn how to work in a production environment, understand the mechanics of 3DS Max, be able to create 3D models using a variety of techniques, work with materials to texture your models, understand how to light a scene, be able to create animations, stage a scene, understand cinematography and learn how to create output for use in post production.
Course Syllabus
An introduction to Autodesk 3DS Max
Interface & workflow
Project folder configuration
Viewports & navigation tools
Keyboard shorcuts
Reference coordinate system and Snaps
Default work space with enhance menus
Creating a model
Parametric geometries and shapes
High and low poly modeling
Modeling 3D objects from 2D shapes
Parametric modeling, Polygon modeling
Combine multiple modeling concepts to create photo-real models
Learn to build anything you can imagine
Scaling your model (reset Xform)
Groups
Material Techniques
Learn a material's workflow
Difference between Material and Map
How to use material templates (Standard or Mentalray)
How to create photorealistic materials
How to apply a material and control it's projection with an UVW map modifier
Open, save, create & merge materials libraries
Cameras & Views
Create & modify cameras
Create camera from view
Target and Free cameras
Viewport background
Isolation mode
Layers
Layer properties
Object propreties
Differences between
Lighting your scene
Standard and photometric lights- advantages & disadvantages
Distributions types photometric lights
Self iluminated materials
Interior lighting techniques
Daylight system
Shadow types
Studio light setup (for product rendering)
Animation
How to animate objects & materials
Tips & tricks
Walk through animaction
Select & link objects
Schematic vew
Principles of Inverse Kinematics
Auto Key and Set Key
Track view (Curve editor and Dope Sheet)
Populate you scene with people (populate tool)
Rendering your model
Mentalray renderer
Final gather
Exposure control
Rendering animations with mentalray
Rendering and animation preview.
Grab Viewport
Panorama exporter
Print size assistant
What you get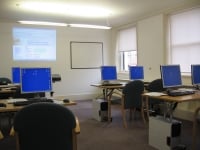 Fully air condition rooms with high-spec PCs
Networking opportunities with fellow delegates
"What do I get on the day?"

Refreshments
Refreshments served all day

Internet
High speed internet access
Learning tools

Reference material
All course training materials

Support
2 months post-course email support