3ds Max 201: Green Belt
Face to face public schedule & onsite training. Restaurant lunch included at STL venues.
Virtual classroom training continues. Can't find what you are looking for? Get in touch.
Syllabus
Who is this course for?
This is for people who want to create 3D graphics for print or animation. Target customers are architectural practises, visualisation studios, production houses, advertising agencies or other such departments that work in large organisations.

You will have preferably attended the 3DS Max Essentials Jumpstart or have a number of years experience working with 3D tools and have a solid understanding of modelling in the 3D environment.
Objectives
You will be able to design 3D environments with animated walking characters with realistic lighting viewed from a moving camera.
Prerequisites
You will have taken the 3DS Max Jumpstart Zero to HERO course or have equivalent knowledge and experience
Benefits
The 3DS Max Green Belt class focuses on learning the techniques and methods that will get the best results. Over 5 days you will be developing your skills and abilities with, Modelling, Lighting, Animation and Rendering.
Course Syllabus
Low and High Poly modeling
more Detailed Box Modelling techniques
learn the Edge Copying technique
combine multiple modelling concepts to create photo-real models
learn to build anything from Air planes to humans
learn the differences between Mesh, Patches, and Nurbs technique
Material Techniques
Unwrap any complex objects using Unwrap UVW and Texporter plug-in
Learn Game texturing Techniques
Pelt Mapping
Layer many maps using UVW map channels
Using Alphas and images as Alphas
Mix and Composite Mapping
Material types in depth including Multi-Sub Object, Composite, Matte/Shadow
Raytraced Materials
Render to Texture
Lighting
Using Skylight
Area lights
Radiosity
Light Tracer
Photometric Lights
E-Light plug-in
Tips on how to reduce time consuming renders with simple standard lights
Animation
Learn Controllers in depth
List Controllers & Limit Controllers
Constraints
Parameter Collector
Wire Parameters
Sliders
Inverse Kinematics
IK Solvers
Animation Modifiers
Morphing
Animation Materials and Effects
Channel Locks and Inheritance
Audio Synchronization
Effects
Particles
Particle Flow
Environmental effects
Composition tips
Glow and flares
Dynamics with Reactor
What you get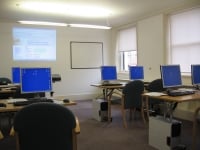 Fully air condition rooms with high-spec PCs
Networking opportunities with fellow delegates
"What do I get on the day?"

Refreshments
Refreshments served all day

Internet
High speed internet access
Learning tools

Reference material
All course training materials

Support
2 months post-course email support